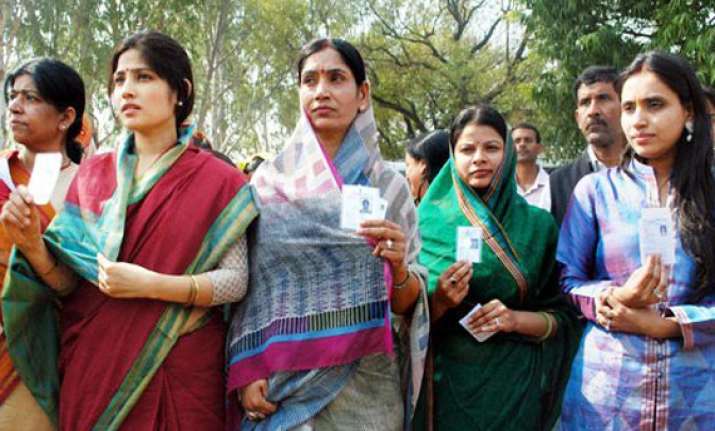 New Delhi, Mar 3: Voting in the seven-phased Assembly elections in the politically sensitive state of Uttar Pradesh were at all time high recording an overall turnout of around 60 per cent with the last phase today registering 62 per cent polling. On the other hand, Goa witnessed a huge turnout for the Assembly elections today with record 81 per cent voters casting their ballots.
"The turnout in Uttar Pradesh was highest at around 60 per cent, recording an increase of 30.23 per cent over the 2007 turnout," Chief Election Commissioner S Y Quraishi told reporters in Delhi.
UP had recorded a turnout of only 46.07 per cent in the previous assembly polls in 2007. The highest voter turnout so far was in 1993 when 57.13 per cent voters cast their ballots. Whereas, North Goa district reported a big turnout with constituencies of Poriem, Sanguem and Madkai recording 89 per cent voting followed by Sankhalimat 87 per cent while an estimated 75 per cent voters cast their ballots in South Goa.
Chief Election Commissioner S Y Quraishi told reporters in New Delhi that an estimated 81 per cent voters had cast their ballots in the coastal state. The previous highest voting in the state was in 2007 when 70.51 per cent voters had voted. Quraishi thanked the voters for exercising their franchise and making a historic turnout in UP this time.
He said the turnout of women increased by 42.77 per cent, as compared to the last time. Of the total women electors, a total of 59.85 per cent women came out to vote in the 2012 assembly polls, against 41.92 per cent who voted in the 2007 polls.
The Election Commission officials were in for a surprise when a booth in Dovorlim locality near Margao reported 100 per cent voting by 3.30 pm, 90 minutes before the close of polling. Two booths, one in Poriem and another in Sankhalim constituency, had recorded 95 per cent voting by 4 pm.

"It is more than the turnout of men which is 57.82 per cent," said Quraishi, adding that "this is specially significant in view of the adverse gender ratio of voters in UP which is 816 women to 1,000 men".

Polling for the 60 seats, nearly half of which were bagged by BSP last time, in the ten districts began at 7 AM today and 62.04 per cent polling was registered till 5 PM, Chief Electoral Officer Umesh Sinha said.
Minor scuffles reported during the day with Congress' Panaji candidate Yatin Parekh hurling abuses against BJP workers while Public Works Department minister Churchill Alemao threatened a senior police officer in front of the media in his Navelim constituency.

In the last phase of polling today, several prominent leaders, including MP Jaya Prada, BJP national general secretary Mukhtar Abbas Naqvi, Union Minister of State Jitin Prasad, MP Mohd Azharduddin and SP leader Azam Khan cast their votes.

Chief Electoral Officer Umesh Sinha said that a maximum 67.25 per cent voting was registered in Jyotiba Phule Nagar district followed by 65.88 per cent in Pilibhit.

Bheemnagar registered 61 per cent, Bareilly 61.33 per cent, Bijnore 62 per cent, Shahjahanpur 61.33 per cent, Mordabad 61.83 and Badaun 59.17 per cent.

In Badaun, JD(U) candidate for Shekhupura seat Sanjeev Gupta was assaulted allegedly by SP supporters in Ujhani area.

In another incident, BJP and Congress men gheraoed a police station after some workers were detained. Following the incident, deputy Superintendent of Police Rafeeq Ahmad was removed from the election duty.

Trouble started when the DySP allegedly assaulted some booth workers of BJP and Congress and took them to police station after which candidates of both the parties protested along with their supporters.

In the last phase, the fate of 962 candidates, including some political veterans in the 10 districts of Bijnore, Moradabad, Bheem Nagar, Rampur, Jyotiba Phule Nagar, Badaun, Bareilly, Pilibhit, Shahjahanpur and Lakhimpur was decided.

At a booth in Jahangirabad in Sahaswan seat of Badaun sitting MLA D P Yadav had a dispute with security forces after being prevented from entering it with supporters.

Besides Samajwadi Party's Muslim face Mohammad Azam Khan, who is contesting from Rampur, the fate of minister Omvati in the Mayawati government from Nagina, BSP MP Jugal Kishore's son Saurabh from Kasta and Rastriya Parivartan Dal head D P Yadav, considered heavyweight from Sahsawan seat, were sealed today.

This phase was earlier scheduled for February four last but was later postponed to March three.

The influence of BJP MP from Aonla Maneka Gandhi, her son and BJP MP from Pilibhit Varun Gandhi, Union Minister and MP from Dhaurara seat in Lakhimpur, Jitin Prasad and Congress MP Azharuddin in their constituencies were tested in the final phase.

In the 2007 assembly polls, BSP had bagged 27 of these seats, while SP and BJP had got 17 and nine seats, respectively.

Around 57 per cent polling was recorded in the last six phases of the elections to the 403-member UP assembly which started on February 8 with the stakes being high for Mayawati's ruling BSP which is facing a tough challenge from Congress, BJP and SP.

An impressive 62 to 64 per cent turnout was registered in the first phase covering 55 seats. Nearly 59 per cent voting was registered in 59 seats for the second phase of February 11.

The third phase on February 15 saw a turn out of around 57 per cent in 56 seats. The next phase on February 19, covering Rae Bareli and Amethi, strongholds of Nehru-Gandhi family, also registered a turnout of over 57 per cent.  The fifth and the sixth phase on February 23 and 28 recorded 59 per cent polling in 49 seats and 68 seats respectively.