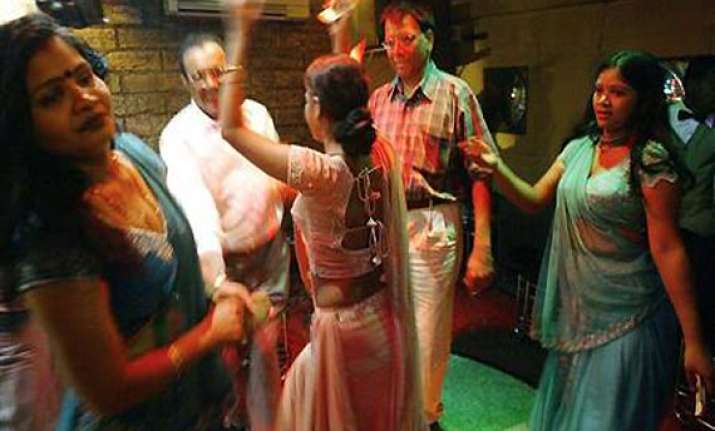 Panaji: Is opening dance bars in Goa a good idea? The ruling BJP thinks it is and appears to be the lone political outfit carrying the flag for dance bars, even as other political parties and NGOs have expressed their opposition.
Bharatiya Janata Party (BJP) spokesperson Wilfred Mesquita, who first set the ball rolling on the possibility of dance bars in Goa, has attracted flak from other parties.
Speaking to IANS, Nationalist Congress Party (NCP) spokesperson Trajano D'Mello said it was a joke that a party which once used to "campaign for building of a Ram temple is now crossing the 'Laxman Rekha' by rooting for dance bars".
"The NCP condemns the utterances of the party (BJP) that there was no problem in starting dance bars. The silence of the chief minister on these utterances is a clear indication that it has been made at the behest of the chief minister himself," D'Mello said.
Addressing a press conference in Panaji last week, Mesquita said: "If alcohol, which is the worst, is allowed to flow in the gutters of Goa, I can't see why you have a problem with it (dance bars)."
Mesquita said that with a recent Supreme Court judgment removing the ban on dance bars, there should be no reason for opposition to them.
The Congress rejected the idea and asked the BJP to publicly apologise for the dance bar comment.
"Has the BJP lost it totally? How dare they take the Goan people for granted by saying that they do not have a problem with dance bars starting in Goa? The Congress demands that the 'dance bar' plans of the state government be stopped immediately," Congress Goa unit spokesperson Aleixo Reginaldo Lourenco said.
The Maharashtrawadi Gomantak Party, a member of the ruling alliance, has also opposed the proposed dance bars and stepped up pressure on the BJP not to allow these bars in the state.
"As a matter of policy we will not support the casinos or dance bars in the state, even if they contribute towards the state exchequer," party legislator and spokesperson Lavoo Mamledar told IANS.