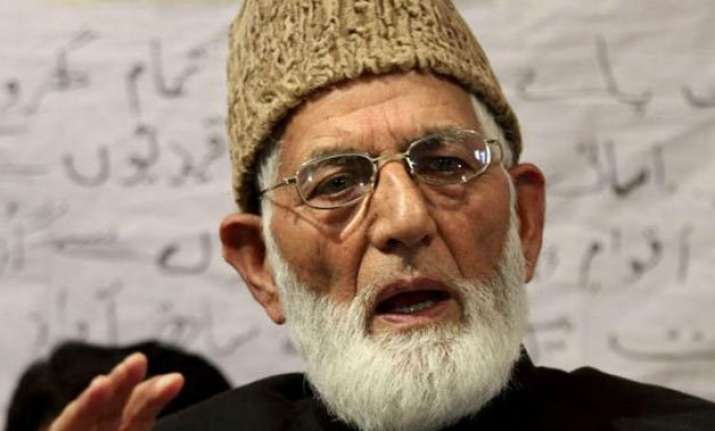 Srinagar: Pro-Pakistan Kashmiri separatist leader Syed Ali Shah Geelani has hit out at Pakistan government for "ignoring" the Kashmir issue during the recent talks between Prime Ministers Narendra Modi and Nawaz Sharif in Ufa, Russia.
Geelani told Dawn newspaper over phone from Srinagar that Pakistan's stand appeared to be "wavering" and "inconsistent" in recent times.
"First they [Pakistani leaders] say that Kashmir is the core dispute, but when they meet Indian leaders they do not even mention it. This is sheer inconsistency," the octogenarian leader said.
Yasin Malik, chief of Jammu and Kashmir Liberation Front (JKLF), told the Pakistani newspaper that every Kashmiri was disappointed at the joint India-Pakistan statement.
"We [Kashmiris] have a genuine right to raise this question. Do we [Kashmiris] count for nothing? Our four generations have suffered; we are paying a colossal human cost of the continued conflict. We believe that India and Pakistan will have to first resolve the Kashmir dispute, with Kashmiris being a principal party to it, and then move forward on secondary issues like trade, travel, tourism, etc," he said.
Moderate Hur­riyat Conference leader Mirwaiz Maulvi Umar Farooq said, Kashmir remains the core issue between India and Pakistan and lasting peace and prosperity in South Asia can come only after the Kashmir issue is resolved.
"I have said it earlier too that 26/11 [Mumbai attacks] is not the core issue between India and Pakistan. The core issue is Kashmir. I feel there is a lot of scepticism around the Ufa joint statement in Kashmir, but resumption of dialogue between the two sides is a good beginning nevertheless," the Mirwaiz said, adding: "Progress on Kashmir issue holds the key", Moulvi Farooq said.
Talking to Dawn.com, he said no one could imagine that Pakistan would sideline the Kashmir issue or Kashmiris for that matter.
"India and Pakistan should have mentioned Kashmir in their joint statement, but I believe they perhaps wanted to create right kind of atmo­spherics for trust building and confidence before moving forward on a sensitive and core issue like Kas­hmir," he said.
Although Mirwaiz Farooq is not averse to the back-channel diplomacy on Kashmir, he said: "There has to be a forward movement on the front channel as well. We understand Kashmir is a sensitive issue."