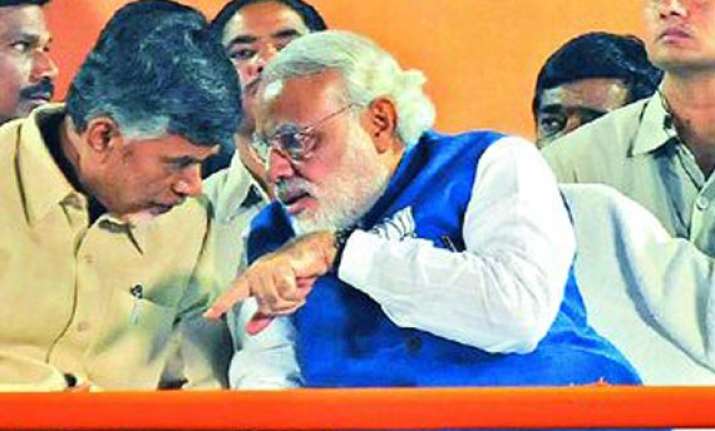 Hyderabad: The Telugu Desam Party hopes to get at least four berths in the Narendra Modi-led Union Council of ministers, party sources said today.  
TDP MP A Gajapati Raju is the frontrunner for a cabinet berth, while N. Siva Prasad, the MP from Chittoor, who has been elected for second consecutive term, may be TDP's choice under SC quota and may be made Minister of State. He was previously minister in Chandrababu Naidu government.  
Of two Rajya Sabha members Y Sujana Chaudhary and C M Ramesh, one of them is expected to get a berth, while educationalist Malla Reddy, the MP from Telangana may get an MoS berth, party sources said.  
Telugu Desam Party chief  N Chandrababu Naidu will meet Prime Minister-designate Narendra Modi and other top BJP leaders in New Delhi on Sunday to discuss ministerial berths for his party MPs.  
The following day he will attend the swearing-in ceremony of Modi and return to Hyderabad.
Naidu, who will soon assume charge of Andhra Pradesh Chief Minister, will reach Delhi tonight. He may be made the convenor of National Democratic Alliance.  
The party has 6 MPs in Rajya Sabha, including 2 from Telangana, and 16 have been elected to Lok Sabha this time. Of the 16 LS members , only one is from Telangana.