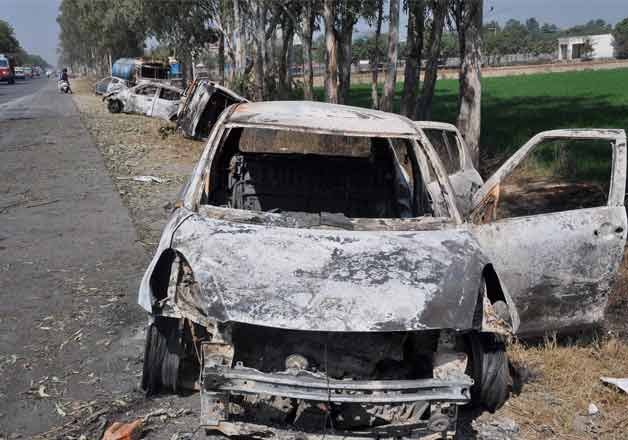 Chandigarh: With day-to-day life limping back to normalcy after the Jat protests in Haryana, supply of fuel and cooking gas almost turned normal in most cities, except Sonipat, Hissarand Bhiwani - epicenter of the stir.
In the 10-day stir which saw arson and violence in several parts of the state, 26 petroleum outlets were vandalized by mobs.
The supplies of fuel and LPG were severely hit in the worst-affected areas - Rohtak, Bhiwnai, Jhajjar, Jind, Sonipat and Kaithal - and people had faced shortage of petrol, diesel, and domestic gas.
"The supplies of petrol, diesel and LPG are now turning normal in most parts of Haryana. Our supplies through trucks also resumed which got stuck in blockades put up by protesters. We hope supplies in all the districts will become normal by Thursday," an official told PTI today.
However, he said that as situation was still tense in Jat-dominated areas - Sonipat, Hissar and Bhiwani - the supplies there were yet to be restored.
"We sent 12 trucks each of fuel and LPG to Rohtak today," he said.
Rohtak, the epicenter of Jat agitation, had seen major destruction in terms of properties and lives.
During the stir, mobs had vandalized several fuel pumps, causing damage to a total of 26 filling stations in Rohtak (7), Bhiwani (5), Jind (1), Sonipat (5), Panipat (2) and Jhajjar (6).
"At some places, mobs had tried to set fuel pumps on fire," he said, adding "around four fuel trucks were attacked at different places".
During arson and violence in parts of Haryana, fuel pumps in five worst affected districts were shut down by oil marketing companies to prevent damage.
There are 2,370 petroleum pumps in the state.
Haryana gets LPG supplies from Panipat, Pyala and Gurgaon while supplies of petrol and diesel come from Bahadurgarh, Ambala, Panipat and Rewari, official said.