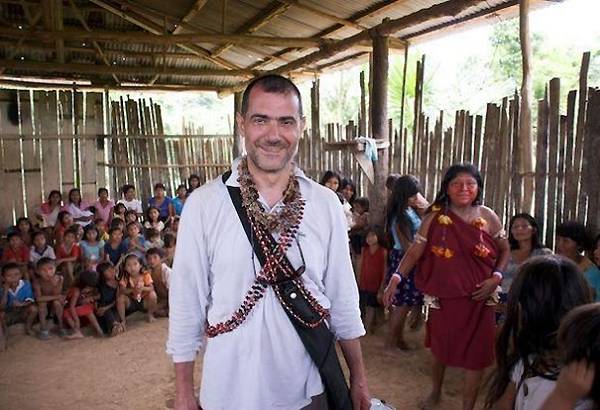 Bhubaneswar, Mar 26: The Italian tourist Claudio Colangelo walked 15 km through deep forests with Odisha mediapersons after he was released by Maoists on Sunday morning.
There were three mediapersons who were assigned to go to the Maoists  inside the Sorada jungle to bring Colangelo. They were Sampad Mahapatra of NDTV, Sandip Sahu of BBC, and Dayanidhi Das, executive editor of OTV, an Odia news channel.
The mediapersons went to Jirakua Mangadakhari forest under Gajalbadi panchayat of Sorada block in Ganjan district to reach the Maoists.
At around 11 am, two armed Maoists  led by Sunil alias Sabyasachi Panda, the secretary of Odisha Committee Of CPI(Maoists) handed over Colangelo to the mediapersons. It was then a 15-km long trek to freedom for the released hostage and mediapersons.
They reached Sorada  Water Resources Inspection Bungalow at around 3:40 pm, and Colangelo was handed over to Ganjam SP Rajesh Pandit, and  DIG Southern Range Radhakrishna Sharma.
Colangelo revealed to waiting mediapersons how the two hostages were made to treak for long distances inside the forests by the captors.
He said, the two Italians faced terrible heat due to widespread denuding of the forests.
He was however  optimistic about the imminent release of the other hostage Paulo Bosusco.
At around 5:30 pm Colangelo was taken by road with heavy police security to Bhubaneswar, where he was lodged at the Mayfair Hotel at around 11 pm.
Colangelo said, he loved Odisha and its people and would return again, but he promised never to venture towards Maoist-dominated territories.