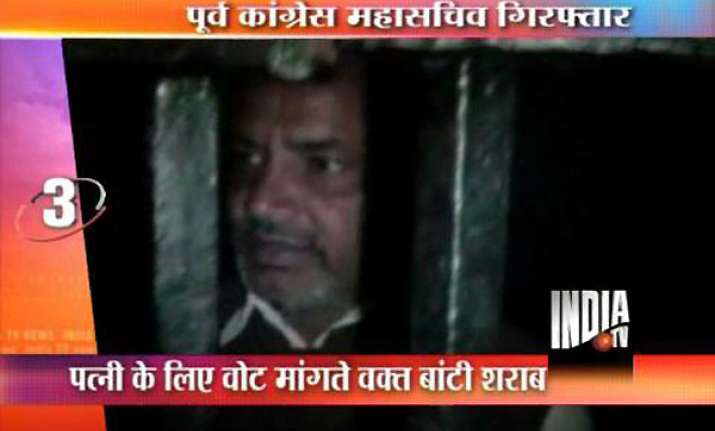 Muzaffarnagar, UP, Jan 22: Rajbir Singh Verma alias Titoo, a former UP Congress general secretary was on Saturday arrested alongwith three others while distributing liquor, cash and blankets to voters in Khatauli assembly constituency.

Titoo, a known gangster in the area, has been campaigning for his wife Chandralekha, an independent candidate, after Congress refused to give him ticket.

Titoo on Saturday arrived at Khokni village and began secretly distributing liquor bottles and blankets from his Qualis vehicle, when somebody tipped off the police, and policemen descended on the scene.

In the scuffle, Titoo bit off the hand of a police sub-inspector.

Titoo is reportedly close to state UP Congress chief Rita Bahuguna Joshi and CBSE chairman Vineet Joshi.

In custody, Titoo alleged that he was wrongly implicated by police and he had no knowledge of liquor bottles in his vehicle.

"Leaders of other parties  drink Blue Label whisky, but give their voters country liquor. I don't do such things. I do not believe in sharaab, shabaab, chicken at all. I believe in development", said Titoo from behind bars.

Titoo runs the Lal Dayal Public School here and his house has already been sealed under the Gangsters Act.