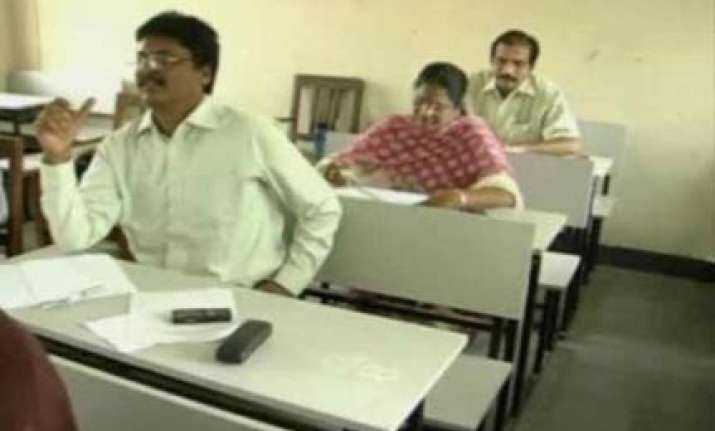 The Andhra Pradesh High Court on Wednesday ordered the suspension of five judges who were caught cheating during the first-year Master of Law (LLM) examination in Warangal, reports Mail Today newspaper.  
The judges, along with three advocates, were charged for resorting to blatant copying in the exam held at Arts and Science College on Tuesday, the report said. 
They were sitting in the exam as students of the Kakatiya University's School of Distance Learning and Continuing Education.  Passing the LLM exam would have fetched them handsome increments and made them eligible for promotions in future.  
Those caught copying  are Anantapur senior civil judge M. Krishnappa, Rangareddy district senior civil judge K. Ajithsimha Rao, second additional district judge Vijayanand, Bapatla senior civil judge M Srinivasa Chary and Warangal junior civil judge Hanumantha Rao, besides advocates P. Sheela Rani, K. Venkanna and V. Rajasekhar. 
All eight were debarred from taking further examinations.  
Dr Nalapalli Manohar, the additional controller of examination, said the candidates were writing their examinations in Room No. 102 when a flying squad of invigilators headed by him made a surprise visit to the college.  
The team was earlier alerted and hence were accompanied by reporters and cameramen of a local TV channel. One of the judges was found copying from a book "Legal and Constitutional History of India" which he had hidden under his answer sheet.  
A few others were caught with pages torn out of text books and other study material.  
The invigilators immediately confiscated the answer sheets and the material used for copying from the accused and debarred them on the spot. 
"We are not bothered whether they are judges, advocates or policemen. For us, they were students appearing for an examination," said Manohar.  
The Kakatiya University authorities have so far not filed any case against the eight persons in the police station.  
The controller of examinations Prof S Ram Reddy said the matter would be reported to the government for appropriate action. 
Taking serious note of the incident, a team of five senior judges of Andhra Pradesh High Court headed by Chief Justice N. A. Kachru directed the High Court Registrar to suspend the accused and instructed the state government to take disciplinary action against them.  
The High Court also asked the university authorities to submit a comprehensive report on the incident of mass copying before it.