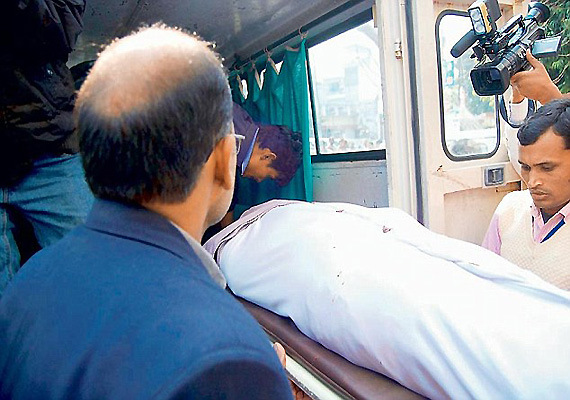 Lakhimpur Kheri (UP), Feb 17: An FIR was today registered against six health officials, including the chief medical officer and his deputy, after a missing health department accountant was found dead under mysterious circumstances, even as his wife demanded a CBI probe in it. 

An FIR under sections 302 (murder) and 120 b (criminal conspiracy) has been lodged with the city police against six health officials, Additional Superintendent of Police Rajiv Malhotra said.

They are Chief Medical Officer (CMO) Dr J P Bhargava, Deputy CMO Balbir Singh, Pasgawan Community Health Centre (CHC) incharge Dr S C Gupta and Pasgwan CHC clerks Rajesh Hans, Kuldeep and Munna Lal, he said.

UP police had found the body of 52-year-old Mahendra Sharma lying in a pool of blood with severe injuries on his head and face from the Pasgawan health centre area in Lakhimpur Kheri district on February 15. 

Sharma, who had been reported missing since February 7, is the fifth person connected with the NRHM scam to have been found dead in the last one year after the alleged bungling of over Rs 10,000 crore of central funds surfaced. 

Ante-mortem smothering has been stated to be the cause of the death in the autopsy report. Six injury marks were also found on his body.

The post-mortem was conducted by a panel of three doctors and the entire process was videographed, Malhotra said.  The FIR was lodged after the victim's wife Mithilesh lodged her complaint with the police. She also demanded a CBI probe in the matter.

In her complaint, she alleged that her husband was murdered and suspected five health department officials including Pasgawan community health centre incharge. 

Sharma's wife alleged that when her husband resumed his duties at Pasgawan CHC after leave from November 2 to November 26, 2011, he found his official almirah broken and documents and files missing.

She said her husband reported this to the CMO, who asked him to join at Bijua after handing over his charge to clerk Rajesh Hans.

"My husband asked for written order for the transfer," she said, adding her husband reported that the missing documents and cheques were related with NRHM programme, which was under investigations by CBI.

Mithilesh said her husband had given a letter in this connection to the CMO on January 30.

She alleged that on January 6, Pasgawan PHC incharge S C Gupta along with clerk Rajesh Hans and two employees union office-bearers visited her house and asked her husband to work at PHC Pasgawan where his signatures on some important documents were required.

Thereafter, her husband went to Pasgawan on February 7 but went missing and was found dead on February 15.  Additional Director, health, Dr S A Rizvi, who arrived here described Sharma's death as homicide as was indicated in the postmortem report and it was a matter of police investigation.

Dr Rizvi ruled out any link between Sharma's death and the NRHM probe stating that neither CBI nor CAG had asked for any inquiry from the slain accountant. As such the death was not linked with NRHM probe at all, he said.

Denying his rule in Sharma's death, CMO J P Bhargava told PTI that he was facing disciplinary action in the form of his transfer on October 24, 2011 on administrative grounds as Pasgawan CHC Gopal Singh had lodged a complaint against him. 

"The transfer order from Pasgawan to Bijua CHC was issued following the recommendation and inquiry of deputy CMO Balbir Singh," Bhargava said, adding that when Sharma failed to report at Bijua and work was disturbed, his transfer order was modified for Patrasi CHC.

"Sharma was ordered to hand over his charge to his successor Rajesh Hans in Pasgawan which he did not comply following which a team was formed to unlock his almirah and hand over the charge to Rajesh Hans to carry out routine works," he said.

Sharma had tendered a written assurance to complete the documents and hand over the charge by February 6.