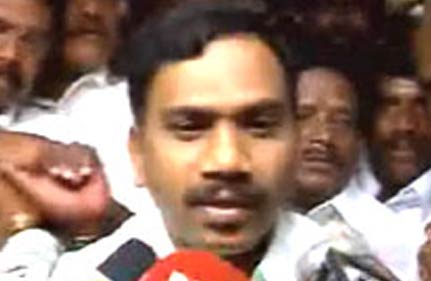 Communications Minister A Raja announced his resignation from the Union Cabinet as the ruling UPA came under pressure from a combined Opposition onslaught in Parliament in the 2G spectrum scam issue.
Raja told newsmen in delhi that he was resigning on the direction of his party chief, M Karunanidhi. 
Raja said: "In order to avoid embarassment to the government and to maintain peace and harmony in Parliament, my leader (M Karunanidhi) has advised me to resign." 
The Prime Minister Dr Manmohan Singh is expected to make an announcement in Parliament on Monday, even as the Supreme Court takes up the A Raja issue.  
Facing opposition onslaught in the 2G spectrum scam, the Congress had put pressure on  the DMK leadership to force A Raja to resign at the earliest.  
Congress wanted the DMK to take the first step in this direction and ask Raja to quit. The DMK leadership, after weighing the pros and cons, gave in under pressure.
Congress is keen to see an end to the Spectrum controversy and normal functioning of Parliament with Raja's removal.
DMK wanted time and had wanted to await tabling of the CAG report and the outcome of the Supreme Court hearing tomorrow on the issue, but political developments overtook  DMK stand of caution.
A defiant Raja had ruled out his resignation in Chennai before leaving for Delhi, but on his arrival, he announced that he was quitting on orders from his leader.
 A senior Congress leader who declined to be identified, candidly admitted that it required all the convincing of the party including Prime Minister Manmohan Singh to persuade the DMK chief to agree to Raja's ouster from the Cabinet.
Earlier, on Sunday, the top Congress leadership met in Delhi and discussed the issue anticipating uproar in Parliament by the opposition which has been demanding Raja's removal.
Congress sources said that its ace trouble-shooter Finance Minister Pranab Mukherjee was actively involved in the exercise on the Raja issue and was in touch with the DMK leadership.
Karunanidhi's reported statement that he would withdraw other DMK MPs from the Government if Raja was sacked had added to the Congress dilemma, but for the present, it seems Karunanidhi is holding his fire.  DMK has 18 MPs in the Lok Sabha.
AIADMK leader Jayalalitha's offer to give unconditional support to the Centre if the Prime Minister dumps Raja is another issue that had drawn Karunanidhi's ire.
For the record, Congress spokespersons have been maintaining that the Raja matter is sub-judice and that the concerned report of CAG is yet to be tabled in Parliament.  PTI