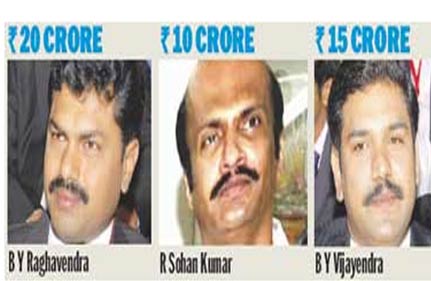 Bangalore, Nov 27 : Even as Karnataka chief minister B S Yeddyurappa was fighting for his political survival inside his party, his two sons and son-in-law were withdrawing a whopping Rs 45 crore from various bank accounts over the past one month, making the Income Tax department sit up and take notice, reports Bangalore Mirror.
The report said, the trio made huge withdrawals and closed some of their bank accounts.  
Yeddyurappa's sons,  B Y Raghavendra and B Y Vijayendra,  and son-in-law R Sohan Kumar have high net worth (HNI) accounts in several nationalised and private banks.
They wound up a bank account in Bellary and shifted it to Bangalore. An Indian Bank account in Bellary was closed, while an Axis Bank account was shifted from the mining town to Bangalore.
Withdrawals were also made from the trio's HNI accounts in Karnataka Bank, Corporation Bank and State Bank of Mysore, the Mirror report said..
Raghavendra, Vijayendra and Sohan's accounts in a nationalised bank, which collectively contained Rs 20 crore, were cleaned out. The money was remitted in August by a Bellary-based mining firm - South West Mining Limited. Yeddyurappa had allegedly granted the company licence at a time when the ban on mining activities was in place.
Of the Rs 20 crore, Raghavendra's account had Rs 10 crore. Vijayendra and Sohan had Rs 5 crore each in their accounts. South West Mining's ledger accounts for the month of August showed that Raghavendra had been given three cheques worth Rs 10 crore. The amount was deposited into his State Bank of Mysore account. The Rs 5-crore worth cheques drawn in the name of Vijayendra were also cleared.
"Last week, Raghavendra came to the bank armed with personal guards, and withdrew a big amount that ran into several crores of rupees. They had come fully prepared to carry the cash away, probably to a safe destination," a source in the nationalised bank told Bangalore Mirror.
"It is very strange that the chief minister's sons had accounts in Bellary banks even though they lived in Bangalore," another source said. The bank did not wish to divulge all their account numbers and the exact dates of transactions.
"If taxes have been paid, then the money is in white. Otherwise, tax officials will start trailing the network," a source in the I-T department said.
Meanwhile, the BJP central leaders have shackled Yeddyurappa by ordering an internal probe into charges of corruption against him.  
BJP has constituted a panel led by Rajya Sabha member and former chief justice of Punjab high court Rama Jois to probe the allegations and submit a report within two months.