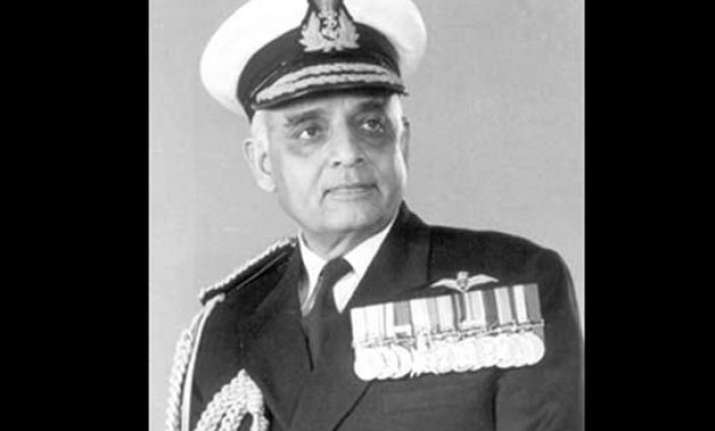 New Delhi: Former Chief of Naval Staff Admiral (retd) Radhakrishna Hariram Tahiliani passed away here yesterday.
Tahiliani, who has also served as the Governor of Sikkim, was 85 years old. His son Tarun Tahiliani is a well known fashion designer.
Admiral (retd) Tahiliani's wife Jaswanti Tahiliani had died of cancer.
Born on May 1930, the Admiral was commissioned in the Navy on September 1, 1950 and served as the 11th Chief of Naval Staff from December 1, 1984 to November 30, 1987.  
A distinguished graduate of the French Test Pilot School and an outstanding pilot, Tahiliani was the first to land on the deck of INS Vikrant on a Hawker Sea Hawk Fighter on May 18 1961, ushering carrier based aviation into the Indian Navy.
The Admiral had commanded the carrier-borne squadron INAS 300 during the Indo-Pak war in 1971. His career included command of INS Trishul and the Aircraft Carrier INS Vikrant.  Tahiliani was also instrumental in the procurement of the second aircraft carrier INS Viraat along with its fighter complement of Sea Harrier aircraft.
In December 1977, he was promoted to the rank of Rear Admiral and appointed as the Flag Officer, Goa Area (FOGA).  Later, he was appointed the Flag Officer Commanding, Western Fleet (FOCWF).
His next appointment was as Assistant Chief of the Naval Staff (Air) at Naval Headquarters (NHQ) which was followed by appointment as the Deputy Chief of Naval Staff. In February 1982, he was appointed as the Flag Officer Cmmanding-in- Chief (FOC-IN-C), Southern Naval Command.
In March 1983, he was appointed the Flag Officer Commanding-in-Chief, Western Naval Command and subsequently as the Vice Chief of the Naval Staff in May 1984.  
Post retirement Admiral Tahiliani served as the Governor of Sikkim between February 1990 and Sep 1994. He also helped launch the India chapter of 'Transparency International' as a founder member in 1997.