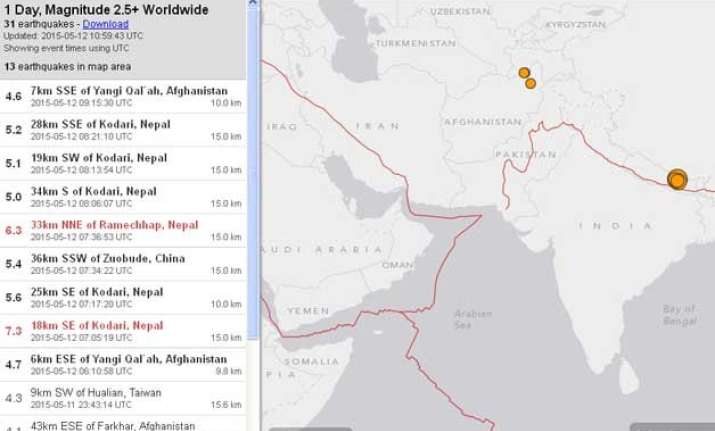 A fresh 7.3 earthquake shook the earth in Nepal and northern India today, killing at least nine people and injuring 300 in the region as many buildings already weakened by last month's massive temblor were sent tumbling to the ground.
Within an hour, six aftershocks hit the area with the strongest at magnitude 6.3.
The epicenter Tuesday was about 100 kilometers (62 miles) from the center of a 7.8-magnitude earthquake that struck on April 25, killing more than 8,000 people and leaving thousands homeless.
Tuesday's quake was deeper, however, coming from a depth of 18.5 kilometers (11.5 miles) versus the April 25 quake that hit 15 kilometers (9.3 miles). More shallow earthquakes tend to cause more damage at the surface
The U.S. Geological Survey said Tuesday's earthquake was centred 68 km (about 42 miles) west of the town of Namche Bazaar, close to Mount Everest and the border with Tibet.
As per the US Geological Survey, in the last 24 hours 31 earthquakes have rocked the world mostly in the vicinity of Asia.
"The shaking seemed to go on and on," said Rose Foley, a UNICEF official based in Kathmandu. "It felt like being on a boat in rough seas."
Strong shaking was also felt across northern India. In New Delhi, people scrambled outdoors while buildings swayed.
Across the Nepalese border in Tibet's Jilong and Zhangmu regions, the Earth shook strongly. Tremors were also felt slightly in the Tibetan capital, Lhasa.
See the map above to know the earthquakes spread across the world today.