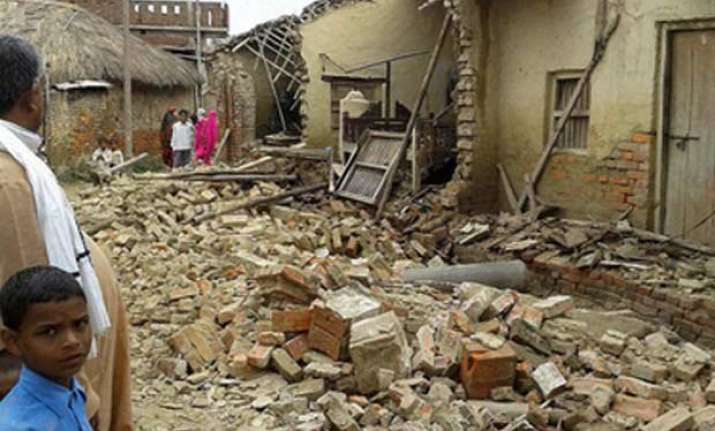 Patna: The death toll in Bihar due to day before yesterday's 7.9 magnitude earthquake mounted to 51 today amid reports of widespread damage to property and crops from various parts of the state.
At least 173 persons were also injured in the massive temblor, according to a report by the Disaster Management Department control room.
A fresh tremor measuring 6.9 on the Richster scale hit the state today.
Bihar Chief Minister Nitish Kumar held a meeting with officials of different departments engaged in relief work and directed them to launch co-ordinated exercise to provide succour to the people affected.
Later, he presided over a meeting of the departmental secretaries where he directed all of them to camp in the districts under their charge to carry out relief works in quake-affected districts.
Kumar also directed all his ministers to camp in the districts under their charge to supervise relief works.  RJD supremo Lalu Prasad today asked the Centre to declare the earthquake a national calamity, expressing concern at large-scale devastation.
Prasad asked the Centre to provide ex-gratia payment of Rs 20 lakh to the kins of all those killed in earthquake and in Bihar's case he urged the Chief Minister Nitish Kumar to provide a compensation of Rs ten lakh to the kins of each victim.
Union Food and Consumer Affairs Minister Ramvilas Paswan visited Katihar and Purnia districts and met affected people.  Union Agriculture Minister Radha Mohan Singh too went to Motihari where he met the quake-affected families.
He also visited government hospital to inspect medical facilities being provided to the injured people. Amid reports that a large number of people from Bihar, including students, were stranded at Pokhara and surrounding areas in Nepal devastated by the earthquake, it has been decided to rush buses to those places via Raxaul to bring them back, the Chief Minister said.
As many as eight aftershocks measuring between 5.5 to 6.9 on the Richster Scale were felt today, a MET official said.  Three of those aftershocks felt above the surface measured above 6.5 on Richter Scale, while the remaining ones were of lower intensity, Patna MET Director A K Sen told PTI.  In the evening, the chief minister visited a park in S K Puri locality.
Addressing a press conference after holding successive review meetings with senior officials, Kumar said that Rs four lakh in ex-gratia has been paid to kins of each victims, besides the the affected people have been provided with gratuitous relief measures comprising one quintal foodgrain and Rs 5800 for purchase of cloths and utensils.  The extent of damage to crops and houses were being assessed for providing compensation to the affected people, Kumar said.
He said that the compensation to those people whose houses have been destroyed or damaged by the quake and other calamities recently will be provided from the Disaster Management Funds.
Kumar said the state government had decided to provide "humanitarian assistance" to the quake victims in Nepal.  State medical teams stationed in border districts will treat the injured people free-of-cost from across the border, as ready-to-eat food packets will be distributed to the quake-affected.
15,000 food packets, being packaged at Betiah (West Champaran) will be sent to Nepal for distribution among the quake-affected people, Kumar said.
In order to extend assistance to Nepal, the state government has decided to set up four base camps in border districts to assist the neighbouring country in rescue and relief works, he said.
Kumar also volunteered to rush a team of engineers and technicians to Nepal to restore electricity supply, stating that these engineers and technicians were presently camping in cyclone-ravaged Purnia district where restoration of electricity supply has been almost completed.