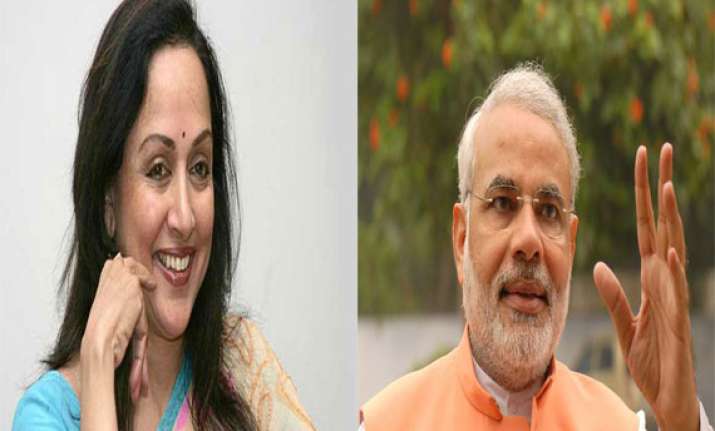 Motihari (Bihar): Pitching in for Narendra Modi as Prime Minister, actress-turned-politician Hema Malini today said the people were fed up with corruption and social evils under Congress rule and looking eagerly for a change.  "People of India are fed up with rampant corruption and prevalence of social evils during Congress rule," Malini said addressing an election rally here in favour of party candidate Radha Mohan Singh.
Only a strong government under Narendra Modi could rid the country off all these problems, the actress, popularly known as 'dream girl', said.
The actress who herself has contested from Mathura Lok Sabha seat on BJP ticket has hit the campaign trail after end of voting in her constituency on April 30.  She made a scathing attack on RJD president Lalu Prasad and state Chief Minister Nitish Kumar blaming them for the backwardness of Bihar.
The pace of development in Bihar has halted in Nitish Kumar regime after BJP got out the ministry, she said.  At another meeting at Bettiah, Hema Malini met an over-enthusiastic crowd on whom the police had to use mild lathicharge to keep them at a distance from the actress.  The incident occurred when she was boarding a helicopter.  After being controlled by the police, the crowd got restless and some of them threw chappals at the chopper.  However, the situation was soon brought under control and the actress flew away.
Incidentally, BJP's Sanjay Jaiswal is pitted against noted film-maker and JD(U) nominee Prakash Jha from Bettiah Lok Sabha seat.