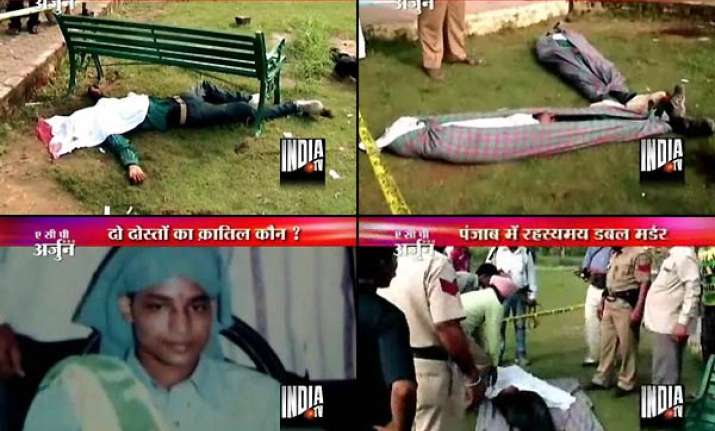 Ludhiana, Jul 1 : Police have found two bodies, soaked in blood with crushed faces, in a park in Subhash Nagar in Ludhiana on Thursday morning.

The matter came to light when people came to the park for morning walk and were shocked to see the bodies lying in the park. Police was informed immediately.

Additional DCP Harmohan Singh along with  his staff ,a dog-squad and finger-print experts reached the spot to ferret out clues to the double murder.

The deceased have been identified as Sandeep Kumar alias Sonu a resident of Bhagwan Nagar and Randiv Kumar alias Monu who is a resident of Model Colony.

According to the police, the boys had been hit on the head with bricks. The police found blood soaked bricks, an empty liquor bottle and some eatables near the dead bodies. After the panchnama, the bodies were sent for post-mortem.

Additional DCP Harmohan Singh said, according to the  statement given by Monu's father Narender Kumar it appears that  these youths were killed by their own friends.

"Kumar has told us that the two youths  along with four of their friends had left home on Wednesday afternoon saying that they were going to a fair nearby."

At about ten in the night Monu called up his father to tell him that he will return home the next morning, but his body was found the next morning.