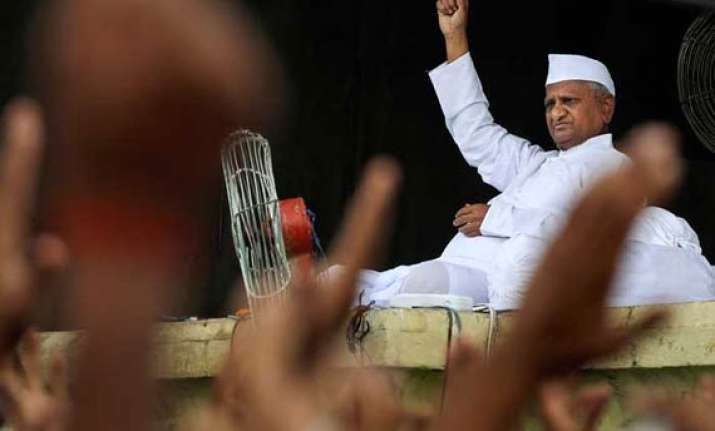 New Delhi, Aug 21 : Anna Hazare today said his campaign has not closed the door of dialogue with government, a day after Prime Minister Manmohan Singh stated it was open for discussion.
"We have not closed the door of dialogue. We have kept it open. Only through dialogue the issues can be resolved," he told his supporters at Ramlila Ground on sixth day of his fast.
His close associates referred to the Prime Minister's readiness to discuss the issue and said so far no proposal has come from the government.
"With whom and where should we discuss what," Arvind Kejriwal, a key aide of Hazare, said announcing the five decisions taken at the core committee meeting of 'India Against Corruption' this morning.
Both Hazare and Kejriwal also asked their supporters to hold dharnas in front of houses of MPs in their constituencies and demand written commitments in support of the Jan Lokpal Bill."The dharna should also cover Ministers and leaders of various political parties," they said. 

Kejriwal said a 'maha rally' will be held today from India Gate to Ramlila Maidan in support of 73-year-old Hazare's movement and tomorrow the Ramzan and Janmashtami fast will be broken together at the ground in solidarity with the Gandhian's campaign.

The Prime Minister had said yesterday that there was "a lot of scope for give and take" and that the government was open to "discussion and dialogue".

Making it clear that he will not budge from his stand of getting the Jan Lokpal Bill passed in Parliament, Hazare said even if the Prime Minister is covered, he will not end his campaign.

"Even if the Prime Minister is covered, the Jan Lokpal Bill has to be passed. Till Jan Lokpal Bill is passed, we will not go back on our mission," the Gandhian said.
Taking a jibe at the critics of his movement, Hazare said, "People's parliament is higher than the national Parliament.

"We send MPs as trustees of the treasury but they go there and start looting peoples' money. But now people who are the masters have awakened. Now we have to send several of these corrupt ministers out of power and to jails," he said.

"The Prime Minister had said that the government is open for dialogue but till now we have not received any communication from the government," Kejriwal said.
Hazare lauded the fact that people from all faiths and creeds have come to support him. He also praised the media's role in highlighting the issue.

"The media has driven the movement to every home and the public has risen in protest," he said, with a word of praise for the protesters for keeping the movement peaceful which he called "unprecedented".

He was all praise for the youth who have joined the anti-corruption movement and expressed confidence that with the youth power, the "revolution" will be able to demolish corruption through the enactment of a strong Lokpal.

Hazare came to the podium at around 10 AM as supporters started pouring into Ramlila Maidan where he launched his protest on Friday after coming out of Tihar Jail.After reaching the podium, Hazare "thanked" people for extending whole-hearted support to his campaign against corruption.

"I thank all of you for coming here and supporting the movement," the anti-corruption crusader said in a brief comment. PTI