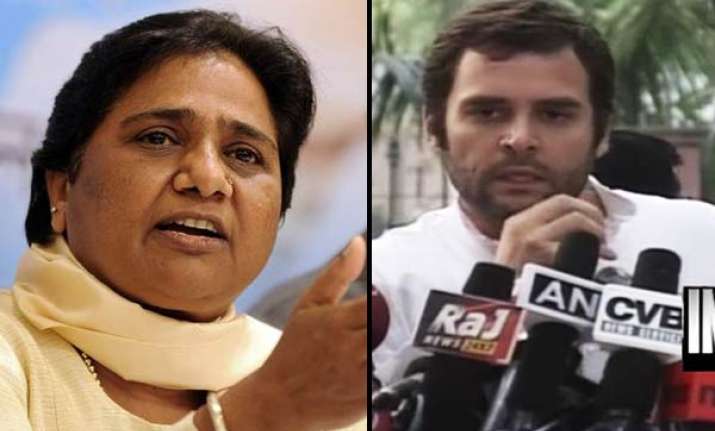 New Delhi, May 17: Hitting out at Congress leader Rahul Gandhi for politicising the Bhatta Parsaul incidents, the Bahujan Samaj Party on Mondaynight said that instead of wasting his energy in unproductive work,  the `Yuvraj' should ask the Union Government to bring a  legislation on land acquisition.
A BSP spokesman said  in Lucknow, there was no law and order crisis in these twin villages. "The Congress was spreading canard to malign the BSP Government," the spokesman said in a release.
He said that violent incidents reported early this month from these villages had nothing to do with acquisition of land. "Some anti-social elements incited villagers to their vested political interest. Some political parties also supported them," he said.
"Instead of enacting a drama, the Congress leadership should bring a legislation on land acquisition that would help the society in general and farmers in particular," he said.
Rahul Gandhi after meeting the Prime Minister with Bhatta-Parsaul farmers on Monday said there were "74 (mounds of) ashes there with dead bodies inside" and he has the "pictures" to prove it. 
Stating that he is "very concerned" about what is going on in these villages, Rahul said people were killed and women raped in these villages. 
Rahul Gandhi  showed the Prime Minister pictures purportedly of burnt bodies, melted and burnt bones and other evidence of police repression against villagers. 
The issue here is a more fundamental one with regard to these villages in particular and a large number of villages in UP down the Agra highway, where state repression is being used, where people are being murdered...quite severe atrocities are taking place there....There is a set of 74 (mounds of) ashes there with dead bodies inside. Everybody in the village knows it. 
"We can give you pictures. Women have been raped, people have been thrashed. Houses have been destroyed," Rahul told reporters outside Prime Minister's residence. 
"What I am concerned about is how we are treating our people. Most of the people said they are more than happy to give their land for development. 
"They said if a road is being built, they have no problem.... Most poor people want development in the country and they are ready for the sacrifice. 
"The question is how we treat those poor people. Do we treat them fairly or do we brutalise them? And that is why I brought these people to the PM because after all they are Indian people and we have to look after their interests as well," he said. 
The Amethi MP reiterated the Congress' commitment to amending the Land Acquisition Act, but said that since it is a complicated piece of legislation it is taking some time. However, he assured that the UPA Government will bring the Bill in the Monsoon Session of Parliament.
With Assembly election in Uttar Pradesh due in 2012, the Congress leader has adopted a pro-active approach to the issue of land acquisition. 
The party feels that Bhatta Parsaul could bring it on the centre-stage in Uttar Pradesh just like Singur and Nandigram did in case of Trinamool Congress leader Mamata Banerjee in West Bengal.
Rahul, who is envisaging a keen interest in reviving the party's fortune in Hindi heartland States, is taking the lead by reaching out to the agitating farmers and espousing their cause. 
Riding pillion on a motor-cycle he reached the village last Wednesday in the early hours and sat on dharna with agitating farmers. However, he was arrested from the village at night and was taken to Delhi. 
The Congress, which has decided to go alone in Uttar Pradesh, is likely to announce names of some of its candidates by the end of this month so as to give them enough time to prepare for the polls. 
The two day meeting of the PCC delegates is starting from May 18 and Rahul will address the party leaders and prepare poll strategy.
Congress president Sonia Gandhi will address the valedictory session on Thursday and hold a public rally at the end of the meet.