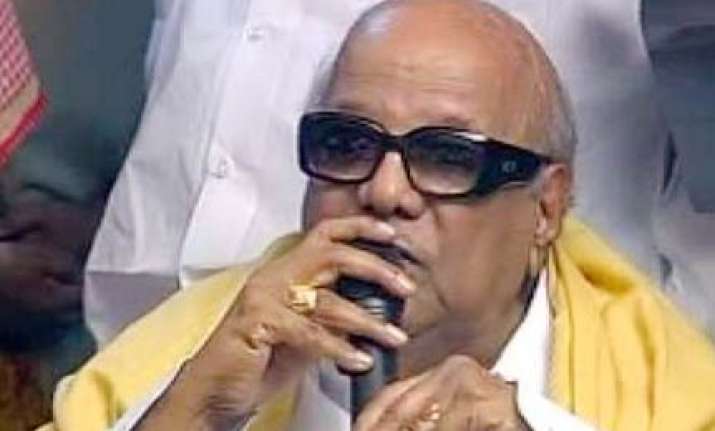 Chennai, Feb 3: The DMK today stood solidly behind embattled former Telecom Minister and its Dalit face A Raja on the 2G Spectrum scam, asserting his "mere arrest" would not make him guilty.
Meeting a day after the CBI arrested Raja and two former senior officials, the DMK's top policy making body, the General Council, slammed opposition parties for attempts to "malign" the party and "blow the issue out of proportion."
After a nearly three-hour meeting, DMK spokesperson T K S Elangovan told reporters that the high command had not got any resignation letter from Raja, who is under the scanner of the Supreme Court which is monitoring his and former aides' role in allocation of 2G spectrum in 2008.
"As of now, he continues to be propaganda secretary," Elangovan said amid speculations earlier in the day that Raja had offered his resignation from the post.
The resolution said "mere arrest" of Raja does not make him guilty and the opposition's only evidence against him was the CAG report tabled in Parliament.
Pointing out that CAG had given a similar report during the NDA regime on the issue, it said none had raised any voice then.
Asked if the Raja episode would prove detrimental to DMK's prospects in the Assembly polls due in May, Elangovan said  the party would face it on the basis of its performance and several welfare schemes it had launched.
He asserted that Raja would come out clean.
The opposition, which blocked functioning of Parliament during its last session, has again threatened to do so in the coming Budget session, demanding a JPC probe into the issue, the resolution said.
It said as per normal practice the Public Accounts Committee, headed by an opposition member, goes into CAG reports.
It also recalled Karunanidhi's earlier statement that he would not hesitate to take action against Raja if he was proved guilty, adding the party was "an open book."
The General Council was presided over by DMK patriarch M Karunanidhi, who remained incommunicado since Raja's arrest in Delhi yesterday.
The Chief Minister skipped his routine meeting with reporters after the General Council, as a large contingent of media waited for his reaction to Raja's arrest.
The meet was attended by Karunanidhi's sons - Union Minister M K Alagiri and Deputy Chief Minister M K Stalin and daughter Kanimozhi, MP, among others. PTI