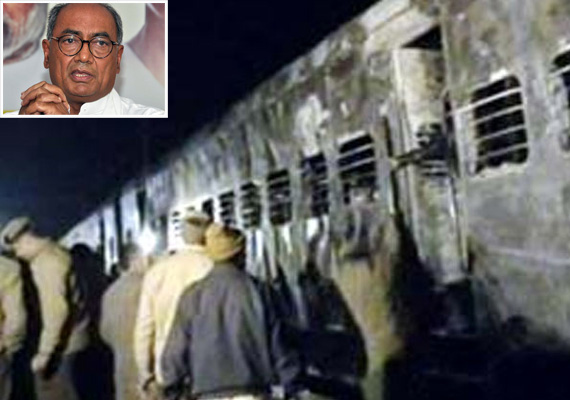 Lucknow, Feb 15: A day after a disgruntled RSS worker claimed to have planted a bomb in Samhjauta Express, Congress general secretary Digvijay Singh today sought a "close vigil" on the organisation.

Singh, however, said that banning the RSS was not possible.

"How can it be banned when it has some 150 associations of it...it is not possible...but it is necessary that a close vigil be maintained on it", he told reporters here. 

Questioned on the timing of the arrests in the Samjhauta blast case by the NIA, Singh said that the first RSS functionary was arrested in 2002 since then they are being tracked and the probe has been going on. 

"Had the person arrested been a Muslim, the Sangh's attitude would have been different...the arrested person is a close associate of RSS leaders and has confessed to planting bomb in Samjhauta...there is no question of the timing of the arrest with UP elections", he said.

Kamal Chauhan, a disgruntled RSS worker arrested by the NIA, claimed yesterday that he had planted bombs on board Samjhauta Express in 2007 that left 68 people, mostly Pakistanis, dead.

"Yes, I have done it on my will," Chauhan told mediapersons as he was being taken out after in-camera proceedings in Panchkula court which granted NIA his custody till February 24 for questioning him on his alleged role in the blast in the Delhi-Lahore train.

His remarks came as NIA alleged that Indore-based Chauhan had planted bombs on board Samjhauta Express and had undergone training in arms and explosives in Haryana and Madhya Pradesh. 

Citing a case, Singh said that a SIMI activist arrested in Khandwa district with material used for making bomb had shelter at the house of a Bajrang Dal leader for three months. 

To a question, he said that he has evidence against SIMI and Bajrang Dal and he had banned them in MP but ban on Bajrang dal did not find favour with the NDA government at the centre.

Singh said that a BSP minister whose name is figuring in the TET scam is contesting election on party ticket and questioned Mayawati's claims of acting against the corrupt. 

He also favoured making the SIT report on Gujarat riot public.

The Congress leader said that he has written a letter to the DGP of UP for a probe into the incident in Amava region in Pratapgarh district in which a truck rammed into the fleet of legislature party leader Pramod Tewari. 

On the occasion Singh announced the joining of former mayor of Lucknow and former BSP MLC, Dauji Gupta in the Congress.