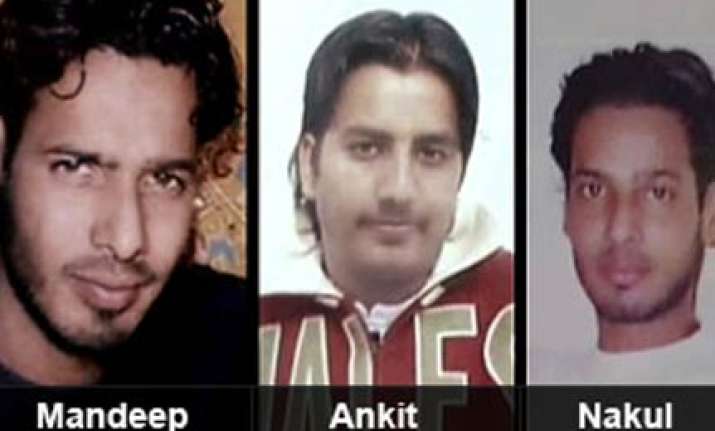 Ghaziabad :  Three youths who allegedly carried out the sensational honour killing of three of their relatives in Delhi on Sunday were  arrested in Garhmukteshwar area on Thursday.
 Mandeep Nagar (23), Ankit Chaudhury (22) and Nakul Khari (21) were arrested from Garhmukteshwar, about 90 kms from Delhi, and a country made pistol was recovered from them, Senior Superintendent of Police Raghubir Lal said, adding they have also seized a car.
The three were on the run after allegedly killing Ankit's sister Monica, 24, along with her husband Kuldeep, 26, for marrying in a different caste, and Mandeep's 22-year-old sister Shobha, who too had eloped with a man belonging to a different case. 
The accused carried out the three murders on the same day-- June 20, Additional Director General of Police (Law and Order) Brij Lal said in Lucknow. 
First they killed Shobha after asking her to meet them. They shot her in her car. Then they called Kuldeep to meet them and killed him. Later his wife Monica was murdered at her home, he said. 
The youths said that the villagers would insult them by pointing out that their sisters had married outside the caste and they could not take the humiliation, Lal said. 
 After the murders, the three escaped to Uttarakhand and there were reports that they were moving around in Dehradun, Rishikesh and Musoorie but there was tip off today that they were located in Garhmukteshwar, where police arrested them. 
Lal said they were being taken to Ghaziabad and Delhi Police has been informed.  Police had yesterday announced a cash reward of Rs 50,000 each for anyone providing information on them.
The three were presented before the media here by the police.  Earlier, Delhi Police took Mandeep's uncle Dharmaveer Nagar and friend Nitin, who allegedly gave provocative statements justifying the murders, into preventive custody.
 "We have taken them into preventive custody under Sections 107 (Security for keeping peace in the other cases) and 151 (arrest to prevent the commission of cognizable offence) of the Cr PC," DCP (north-west) N S Bundela said in Delhi. 
This has been done to maintain peace as there were apprehensions that their statements might instigate others, another police official said.
"This (killing) is not at all wrong. What is wrong in it? Murder is wrong but this (killing) is socially the best thing that has been done. This cannot be termed as wrong," Nagar had said. PTI