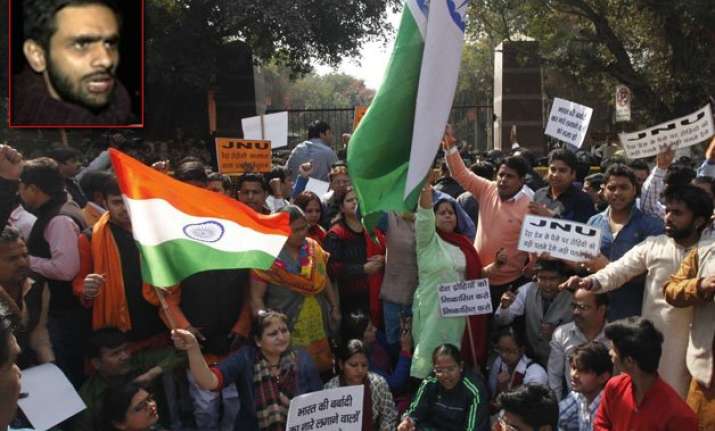 New Delhi: The Special Branch of Delhi Police has submitted a report to the Ministry of Home Affairs on its crackdown on a group of students protesting at the Jawaharlal Nehru University (JNU) campus on February 9 to commemorate the hanging of Parliament attack convict Afzal Guru.
The Delhi Police in its 4-page report blamed Democratic Students Union (DSU) activists led by 'wanted' student Umar Khalid for events leading to violence in the varsity campus.
The group raised anti-national slogans after they were denied to broadcast a pro-Afzal Guru documentary on February 9 in the JNU, the report said, adding Umar Khalid has been absconding since then.
Delhi Police also mentioned that JNU authorities were timely alerted and permission to organise the event was denied to the student group. The decision of cancellation of programme was passed on to student group through JNU security authorities.
Akhil Bharatiya Vidyarathi Parishad (ABVP) students had also idea about the cancellation and they started mobilising around the proposed programme venue, the report said. Earlier, it was reported that ABVP activist had alerted JNU authorities about the event but it was an officer of Special Branch (Intelligence Unit) of Delhi Police who saw a poster and alerted the authorities.
 
"On February 9, around 5 pm, DSU students under the leadership of Umar Khalid, convener, DSU, gathered at Sabarmati Dhaba. Left-supported students were also present at the venue. They had carried with them equipment to show a documentary film on the history of occupation of Kashmir. Since the JNU administration had denied the permission, they carried the equipment back," the report reads.
The Delhi Police report, however, said nothing about JNUSU president Kanhaiya Kumar, who was arrested and booked for sedition.
"As far as JNU issue in general and Kanhaiya Kumar issue in particular is concerned, we have not reached on any conclusion. Matter is still under investigation. One more thing shouting anti-India slogans is not the only criteria for sedition...there are many other acts comes under the preview of that..as and when we will reach to any conclusion,we will share it with media," a MHA source said.
Earlier, Delhi Police Chief BS Bassi had claimed that enough photos and video evidence are available to prove sedition charges slapped against JNU students including Kanhaiya and that no innocent was being made to suffer.
Kanhaiya Kumar was arrested in a sedition case on February 12 after an event held on the university campus against hanging of Afzal Guru. On the same day, he was remanded in three-day police custody by a court here. On Monday, his police custody was extended by two days.
The Special Branch of Delhi Police had been keeping an eye on DSU activities for the last few months and has found that the group mourned Afzal Guru's death and celebrated the killing of CRPF personnel in anti-Naxal operations in Chhattisgarh.