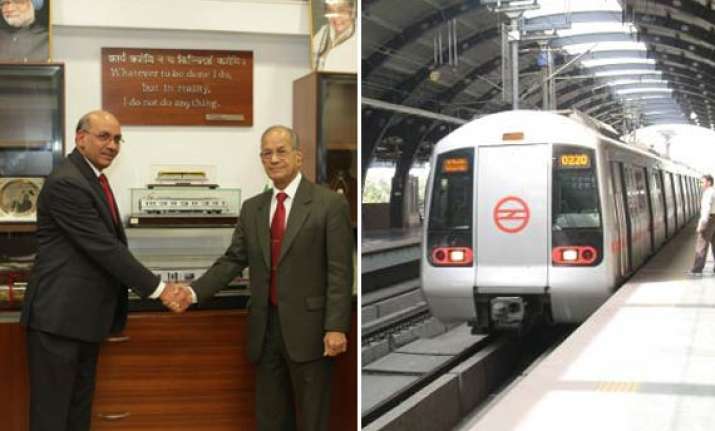 New Delhi, Jan 1: Delhi Metro rang in the New Year under a new Managing Director after E Sreedharan hung up his boots with the task cut out very clearly for his successor like beginning work on the ambitious Phase-III and maintaning the operation standards of the Metro. 

Mangu Singh took over as the new Delhi Metro chief yesterday from Sreedharan after he retired after 16-year service in the organisation.

Singh is the second Managing Director of the Delhi Metro after Sreedharan, who joined the organisation in 1995 and constructed over 190 kmof network in the capital. 

The first challenge before Singh, a veteran civil engineer who oversaw the construction of the high-speed Airport Express Metro in the capital, is to award over 20 civil contracts of the Phase-III project that envisages connecting another 107 km of the capital with the Metro. 

The phase-III project has been approved by the Centre at a cost of Rs 35,000 crore with 40 per cent of funding from Japanese International Cooperation Agency (JICA), but actual work is yet to start on most of the corridors in Phase-III. 

Delhi Metro officials said the plan is to finalise and award all the 20-odd contracts in the next four months so that construction work on them start immedately after the contractor is finalised.

Phase-III has a 2016 deadline and under Sreedharan, the Delhi Metro had the distinction of completing all projects well before schedule.

The construction of the Phase-III project would provide an opportunity to Singh, who was involved in Kolkata Metro project, to prove his mettle both as an engineer and administrator.

Besides, the other challenges before Singh are maintaining the operation standards of the Delhi Metro and the 'clean' image of the organisation, which was the hallmark of Sreedharan's tenure.

Delhi Metro is one of the most punctual transport systems in the world and Singh will have to maintain this by keeping up the operation standards set by his predecessor.  The new age transport system is also known for its cleanliness.

In Phase-III, work on the Central Secretariat-Mandi House and Jahangirpuri-Badli corridor has already started and these lines would be commissioned within the next three years. 

Delhi Metro's Phase-III envisages bringing another 107 km of the national capital on the Metro network at an estimated cost of Rs 35,242 crore.

The Phase-III, which will be completed by 2016, will have a total of 67 stations with 15 inter-change points that will facilitate free movement of commuters. 

The corridors on the Phase-III are—Mukundpur to Yamuna Vihar, Janakpuri West to Kalinidikunj, Central Secretariat to Kashmere Gate and Jahangirpuri-Badli.