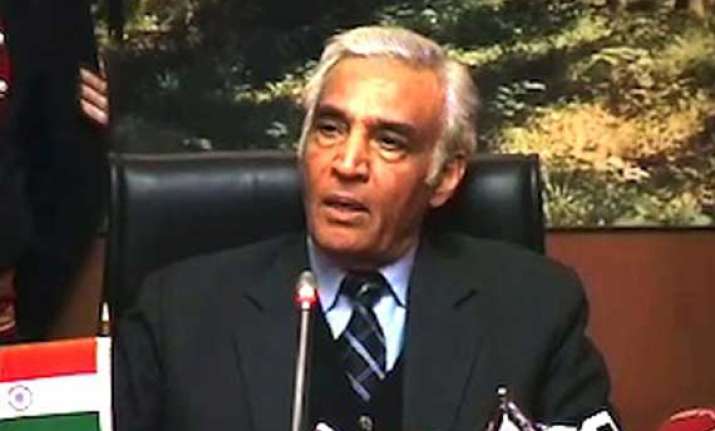 New Delhi, Dec 24:  After cutting short his visit to the US, Delhi Lieutenant Governor Tejendra Khanna slammed Delhi Police Monday for the "security lapse" and the crackdown on protesters after the brutal gang-rape of a 23-year-old woman in a moving bus in south Delhi.
Talking to reporters after the meeting which was attended by Delhi Police officers including Police Commissioner Neeraj kumar, Khanna said the force should exercise restraint in such situations.
"Using water cannons and tear gas shells on peaceful protesters is not right," Khanna said.
He added: "The commissioner apologised... If such a situation arises in future, police should act with restriction as far as possible."
He also slammed police for letting buses with tainted glasses ply on Delhi roads and said two officers have already been suspended.
"Traffic Police and PCR vans did not fulfill their responsibility. vehicles with dark windows are banned. How was this bus ignored? Why weren't PCR vans on patrol unaware that th bus with tinted windows was plying?" he said.
The Lt. Gov. announced suspension of Assistant Commissioners Mohan Singh Dabas of Delhi Traffic Police and Yad Ram of Police Control Room (PCR) "for dereliction of duty".
He said deputy commissioners Prem Nath of Delhi Traffic Police and Satyavir Singh Katara of PCR had been asked to explain their conduct vis-a-vis failure of police to act.
Khanna also said Special Commissioner Sushil Yadav, who earlier worked with the police's women's cell, would meet representatives from women groups on the last Friday of every month and would be approachable 24x7.
Khanna said police officers would be sensitised to deal with women's complaints and would check if women cells were working properly in Delhi police stations.
"If a woman comes with a complaint, police has to register a case immediately. Women groups have also suggested some of their volunteers can act as wardens to check eve teasing in buses," he
said.
The 23-year-old woman was brutally gang-raped in a moving bus by six men Dec 16 and dumped 40 minutes later along with her male friend, who was badly beaten. She is in a critical condition in Delhi's Safdarjung Hospital.
Massive protests have been witnessed across the capital, with police resorting to baton charge, water cannons and tear gas shell on protesters at India Gate in central Delhi.
The six accused, who have been arrested, were reportedly drunk and on a joy ride in the bus. They had earlier robbed a carpenter of Rs.7,000. When he contacted police, they failed to act.
Constables Kailash, Ashok and Sandeep at Hauz Khas police station were suspended Dec 22 for not taking action Dec 16 night when Ramadhir, who was earlier robbed by the six accused involved in the rape case, approached them.
They reportedly told Ramadhir to register his complaint the next day.
Sub-Inspector Rajeshwar, head constable Inder Pal, constables Jagmal, Pardeep and Chottelal at Connaught Place police station have also been suspended as they were absent during their duty hours when Home Secretary R.K. Singh made a surprise visit Dec 21 evening to the police station.