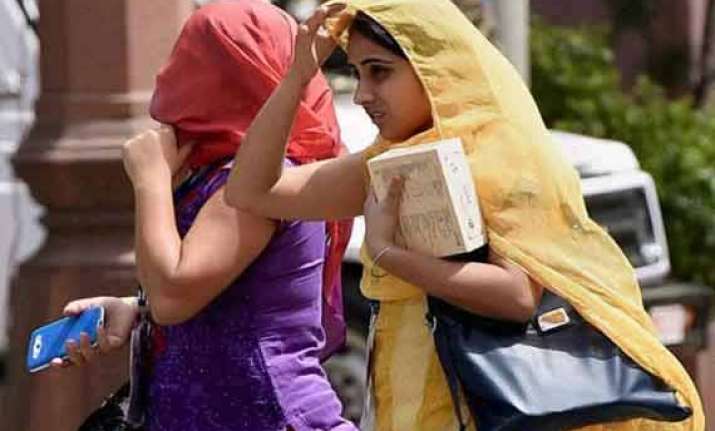 New Delhi: Delhi continued to experience hot and sultry conditions as the Met department recorded the hottest August 23 in the last five years in the national capital today.
Mercury soared to 38.2 degrees Celsius, five notches above normal. According to MeT data for August 23 of the last five years, the temperatures were 33 degrees Celsius in 2013 and 2012, 36 in 2011, 31 in 2010 and 35 degrees Celsius in 2009.  While the minimum temperature was recorded at 27.5 degrees Celsius, a point above normal, humidity levels persisted between 36 and 78 per cent during the day, Met officials said.
With monsoon rains playing truant, hot and humid weather prevailed over several parts of north India even as flood situation remained grim in parts of Uttar Pradesh with some rivers flowing close to the danger mark.
Punjab and Haryana continued to experience hot and humid weather at most places including Chandigarh, as rains continued to evade the region.
Hisar in Haryana sizzled at 40 degrees Celsius, while Bhiwani experienced a hot day at 39.8 degrees Celsius, and Narnaul recorded 38 degrees Celsius.
Ambala and Karnal also recorded above normal maximum temperatures at 36.2 and 35.4 degrees Celsius, respectively.  Sultry weather prevailed in Chandigarh with the maximum touching 36 degrees Celsius, two notches above normal.  
In Punjab, Patiala recorded 37.6 degrees Celsius, while Ludhiana's maximum settled at 36.5 degrees Celsius and Amritsar registered 35.2 degrees Celsius.  Rapti river, which has created havoc in the past few days, has receded in Balrampur of Uttar Pradesh and was flowing at 104.73 m with falling trend, the Ministry of Water Resources said, adding that it was 0.11 m above its danger level of 104.62 m at 10 pm yesterday.
Light to moderate rainfall occurred at isolated places in Kota and Udaipur divisions of Rajasthan while weather remained mainly dry in the rest of the state.
About 1 cm to 4 cm rainfall was recorded till morning today since yesterday in these divisions while Dabok in Udaipur received 2 cm rains till evening, Met department said.  Maximum temperature increased by a few notches in the desert state with Churu being the hottest at 41 degrees Celsius.