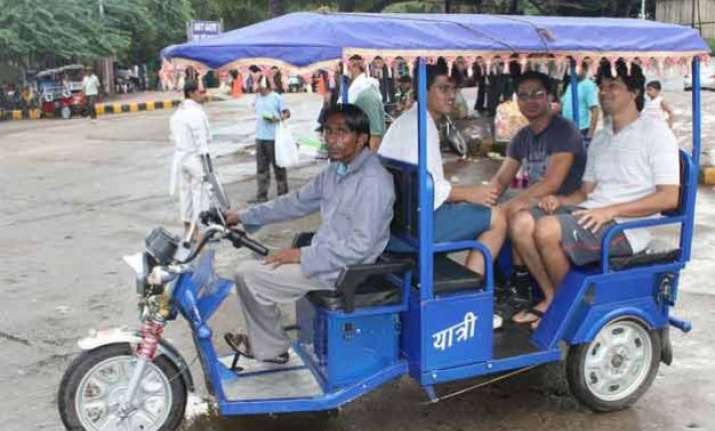 New Delhi: In an effort to streamline the public transport system in the national capital, AAP's policy strategists are working with the Delhi government to chalk out a plan with regards to the functioning of buses, e-rickshaws and auto-rickshaws.
Today transport minister Gopal Rai said, "Delhi government will organize special camps from February 23-28 for issuing licenses to E-Rickshaw drivers. This camp will be organized at all the MLO offices of Delhi. Rs 30 will be charged as the license fee."
The party leaders said the AAP is working on a plan to incentivise public transport as much as possible by improving its reach across the city, with benefits ranging from better last mile connectivity to pollution control.
Party sources also revealed that one of their top priorities was to look at acquiring an additional fleet of buses for the DTC.
"At the last count, there were close to 5,800 buses running in the city, and there was a shortfall of at least 3,000 buses. We intend to acquire at least 4,000 buses. This proposal had in fact been made by earlier governments. It is a matter of all procedures going through and it is one of things that we are examining," a strategist said.
Sources also said that the party was looking to put in place a proper policy for e-rickshaw drivers across the city, regulating a fee structure, as well as bringing in standards for engines used in them.
The party thinktank is also mulling to emulate some parts of the Tripura Battery Operated Rickshaws Rules 2014, which has been put in force in Agartala.
"Tripura has shown a successful model for the e-rickshaws. In their policy, there are 55 routes that have been notified in municipal limits. We will try and implement part of these rules in Delhi as well," a strategist said.
 The party is also looking at methods to expand the scope of shared auto services in Delhi which are already operating in rural areas.