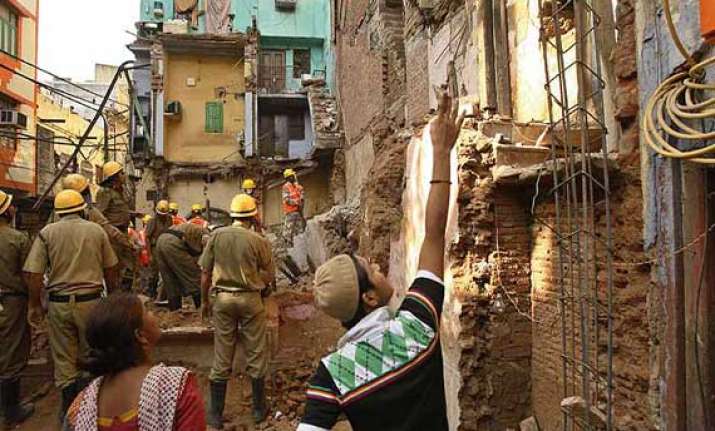 New Delhi: The National Human Rights Commission issued a notice to the Government of NCT of Delhi, through its Chief Secretary, to show cause why it should not recommend Rs.3 lakh each as monetary relief to the families of the four persons who died in a building collapse incident on the 30th March, 2012 at Prasad Nagar in the Karol Bagh Zone of Municipal Corporation of Delhi.
The Chief Secretary has been further directed to submit a report stating therein the action taken or contemplated to be taken against the officers responsible for the negligence. He has been given six weeks time to respond.
After careful consideration of the expert opinions from M/s Shriram Institute for Industrial Research Pvt. Ltd., Structural Engineer of M/s Sheltera Consultants Pvt. Ltd. and IIT Delhi, Mr. Justice D. Murugesan, Member of the Commission found that the main cause of the collapse of the building was inadequate structural design and insufficient strength of concrete used.
The Commission has also observed that the callousness, negligence and inaction on the part of MCD officials for the collapse of the structure was clearly established.
The defence advanced by the civic agency about the unauthorized construction for demolition sent to Prasad Nagar Police Station for taking action u/s 344 (2) of DMC Act vide letter dated 30th March, 2012 was an attempt to cover all its responsibilities.
The Joint Commissioner of Police vide his communication dated 24th July, 2012 had indicated that as soon as the construction began, Prasad Nagar police had intimated the MCD Control Room on the 9th March, 2012. On 10th March, 2012, a complaint was lodged by the local police with the LG's Office.
On the 13th March, 2012, an intimation was given in writing to the Deputy Commissioner, MCD, Karol Bagh Zone by SHO, Prasad Nagar.
However, the local police did not receive any instruction from the MCD to stop work and the under construction building collapsed on the 30th March, 2012. The Section 475 of DMC Act mandates the police only to inform the civic agency about the unauthorized construction and the police can act only after it receives instructions to stop the construction.
The NHRC took cognizance of the matter on the basis of a media report provided by a complainant seeking intervention of the Commission in the matter.