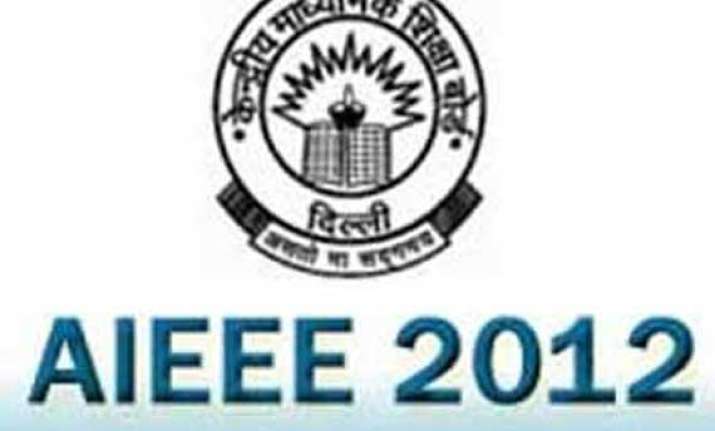 New Delhi, June 10 : Sandeep Pathry, a student of Govt Boys Senior Secondary School, Mukherjee Nagar, Delhi, has topped this year's All Indian Engineering Entrance Exam conducted by the Central Board of Secondary Education, results of which were announced on Saturday night.
This was his second attempt, and Pathry scored  346 out of 360 to become the topper.  
He had passed the CBSE XII exam in 2011 with  89.6 per cent and had scored 84 pc in CBSE X exam.  
Among the girls, Mansi Sood of Delhi Public School, Vasant Kunj, stood first and was placed sixth in the AIEEE merit list.  
About 11 lakh students had appeared for the AIEEE this year. Several days prior to the announcement of results, CBSE had disclosed the Optical Response Sheet (ORS)  of the candidates  without giving away the answer keys.
This has drawn flak from the students who claim that such a disclosure is meaningless as they will not be able to ascertain the correctness of answers and calculate their scores.
Sources pointed out that CBSE was  hesitant about disclosing answer-keys even after over a month of examination, because there was fear some of the answer keys being proved incorrect.
In the past, many errors in the official keys were pointed out by the teachers, parents and other stakeholders in other exams, including in IIT-JEE too.
They pointed out that to check the correctness of the answer keys and bring in more transparency to the evaluation system, provisional answer keys should be released first.
Then, based on the feedback, the answer keys should be frozen for final evaluation. State Boards of UP, Karnataka, Kerala, have been doing it for the past many years. While West Bengal  has recently started such a process.
Further, even as CBSE provides question papers of previous years of Class X & XII boards on its website it does not make available  this basic facility in connection with AIEEE. Lakhs of aspirants are thus compelled to depend on private publishers or coaching Institutes for past years to get AIEEE question papers and answer-keys.