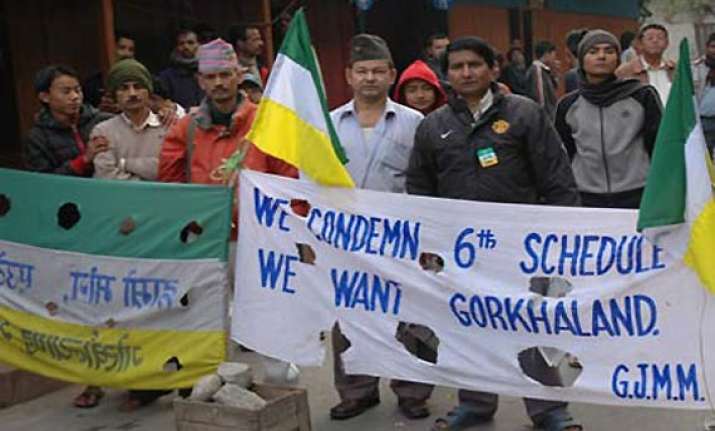 Darjeeling, May 28: The Gorkha Janmukti Morcha today began an indefinite hunger strike in Darjeeling hills over some old demands, two days after it withdrew a general strike.
GJM general secretary Roshan Giri said the demands were non-interference of the state government in the functioning of the Gorkhaland Territorial Administration and end to police "atrocities" on GTA members and common people.
The other two demands were withdrawal of cases against GJM activists during the agitation phase and field visit by fact-verification committee looking into the findings of the Justice Shyamal Sen committee.
The Justice Sen committee had recommended inclusion of only five of the 396 mouzas from the Dooars and Terai in GTA. Later a fact-verification committee was formed to look into the recommendation.
Seven GTA members were among the GJM leaders on fast before the district magistrate's office here, while three members each are on a strike in front of the offices of Kurseong and Kalimpong SDOs.
On May 24, the GJM called an indefinite general strike in the hills from May 26 to protest against the arrest of GTA member Chandra Yonzone in connection with torching of a Trinamool Congress leader's house in Kalimpong.
However, the general strike was withdrawn the next day on various grounds like tourist season, university exams.
Yonzone, who is in judicial custody now, does not figure among the demands set by the Morcha. Asked on this, Giri said Yonzone case "comes under the demand that police atrocities must end."
Meanwhile, anti-GJM organisation Akhil Bharatiya Gorkha League described the hunger strike as an eyewash to save the party's face after a "reckless announcement" of the general strike.