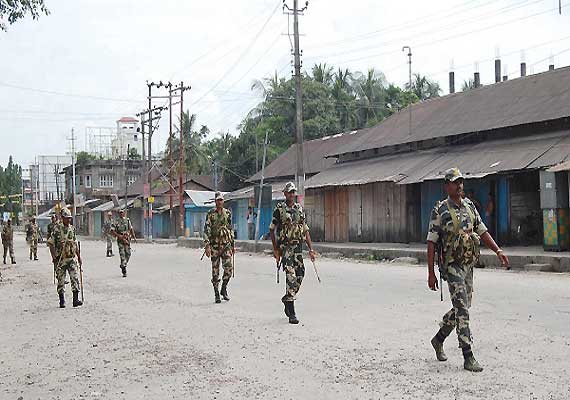 Kokrajhar, Aug 24: The Bodoland Peoples' Front today suspended its indefinite bandh, called to protest arrest of its MLA Pradip Brahma, for five hours following the lifting of curfew for the same period.
The indefinite curfew, imposed since 5 AM yesterday, was lifted by Kokrajhar district administration from 4 PM to 9 PM to allow people to buy their essentials, official sources said.
There is, however, restriction on assembly of five or more people at a spot, sources added.
The BPF, which had earlier stated that it would continue its indefinite bandh till the indefinite curfew was on, also immediately suspended the bandh for a similar period.  
BPF Chief Hagrama Mohilary had earlier said Brahma might have been arrested on the basis of allegations made by a section of society but there was no violence or major incidents to justify imposition of curfew.  
The imposition of curfew following Brahma's arrest yesterday indicates that the "district administration does not want the situation to return to normal," said Mohilary, who is also the head of Bodoland Territorial Council.
The bandh coupled by the curfew had brought life in the entire Kokrajhar district to a total stand-still with all shops, educational institutions and commercial establishments closed. Vehicles remained off the roads.
More than 80 persons have lost their lives and four lakh were rendered homeless in the violence in lower Assam districts of Kokrajhar, Dhubri, Chirang, Bongaigaon and Baksa.  
Meanwhile, reports said Brahma has been admitted to the Kokrajhar Civil Hospital after he complained of discomfort and is undergoing treatment.