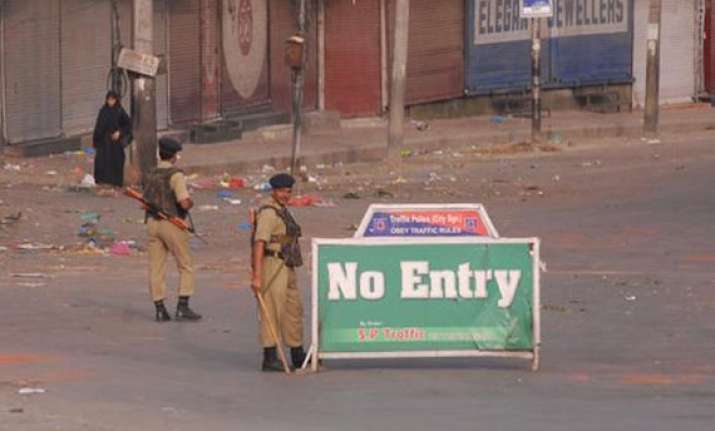 Jammu, Aug 10: Curfew today remained in force in violence-hit Kishtwar district even as protests against yesterday's communal clashes there rocked Jammu and adjoining districts where normal life was disrupted due to a bandh. 
The highway to Srinagar remained blocked at several places as protestors burnt tyres, sat on dharnas and put up barricades in Vijaypur in Samba, Rajpora in Kathua, Udhampur and Gangyal areas.
Normal life was hit in Jammu and adjoining districts of the state due to a bandh called against communal clashes in Kishtwar district that left two persons dead and over 20 people injured.
All shops and business establishments remained closed and traffic was totally off the roads in Jammu city on a call given by BJP and some organisations to protest against yesterday's incidents.
The state government had already closed all educational institutes in Jammu in view of the bandh. Attendance was also thin in government departments due to the strike. 
"There was no report of any untoward incident in Jammu region and the bandh in most of the districts was peaceful", a police spokesman said.
Reports from Kathua, Samba, Reasi, Katra, Udhampur,Katra, Chenani, Poonch, Vijaypur, Akhnoor, Sunderbani, Kalakote, Noushera, R S Pura and Ramnagar areas said a near total bandh was observed, while a partial bandh was observed in Bhaderwah, Rajouri, Ramban and Doda areas as people belonging to one community had closed their shops and business establishments. 
In Jammu, there were protests in various areas and anti-government rallies taken out by BJP, Bar Association Jammu, VHP-Bajrang Dal, Shiv Sena and Trade Association to protest the incidents and demand that Minister of State for Home, Sajad Ahmed Kitchloo be sacked. 
Activists of BJP, BJYM, VHP, Bajrang Dal raised anti-government slogans and burnt tyres on roads in various areas of Jammu city.
"Kitchloo is behind the incident. He should be sacked and arrested", BJP state chief Jugal Kishore alleged.  Divisional Commissioner, Jammu Region, Shantmanu told PTI that "Curfew is on for second day in Kishtwar. After deployment of Army, the situation has normalised but tension is still there".
The trouble in this district, 226 kms from here, had erupted after a group of people raised anti-national slogans after Eid prayers.
Meanwhile, Baseer Ahmed Khan today took charge as Deputy Commissioner, Kishtwar district after DC Mohmad Saleem and SSP Sunil Gupta were shunted out last night in the wake of the clashes.
Gupta was shifted to the DGP's office and Sanjay Kumar Kotwal has been transferred in his place.  Jammu and Kashmir government had last night ordered a high-level inquiry into the Kishtwar clashes. 
"It is hereby ordered that Jammu Divisional Commissioner Shantmanu is appointed to inquire into the incidents of violence and arson and the consequent loss of life and property that took place in Kishtwar," General Administration Department (GAD) Secretary MA Bukhari had said in his order. 
"There is no room for tolerating the culprits of this incident (Kishtwar clashes).Nobody would be allowed to go scot free," state PHE and Irrigation Minister, Sham Lal Sharma had said.
"There is a need to conduct a probe into it... There is communal polarisation in the entire state," he had said.