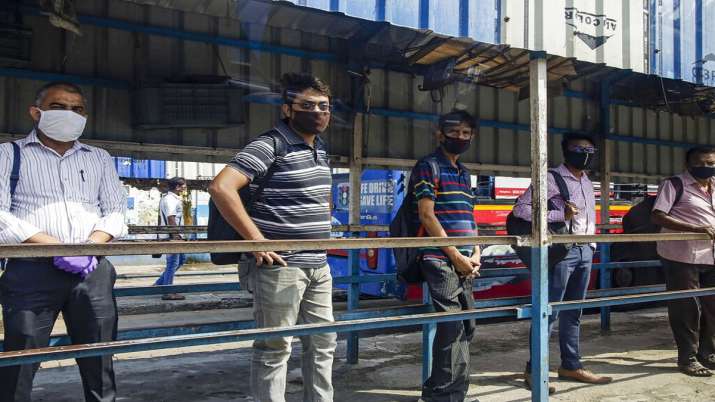 India coronavirus cases have crossed 2.16 lakh mark taking positive patients toll to 2,16,919 including 1,06,737 active cases 6,075 deaths and 1,04,107 recovered, according to the health ministry's figures released on Thursday. In the past 24 hours, the nation recorded highest ever spike of 9,304 new cases and 260 deaths.
India is the seventh country in the world to have maximum number of coronavirus cases after US, Brazil, Russia, Spain, UK and Italy. The United States still leads the world in maximum cases which have now crossed 19 lakh mark while the world total currently stands at 65,68,510.
In India, Maharashtra, Delhi, Tamil Nadu are among the worst-hit states with Maharashtra crossing 72,000 positive cases mark, however, over 31,000 have been cured.
Meanwhile, the Delhi government has reduced the home quarantine period of asymptomatic persons to seven days, instead of 14 days, for passengers arriving by trains or otherwise entering the capital. The government modified its May 25 order, stipulating 14 days, in the order issued on Wednesday by the DDMA.
The order from Chief Secretary said that all concerned authorities at airport, bus stations and railways will submit a daily list of passengers to the office of Principal Secretary, Revenue, who will forward this list to the District Magistrates concerned and they will ensure the mandatory seven day quarantine to the incoming passengers.
State-wise list of COVID-19 positive cases, deaths in India
| Name of State / UT | Active Cases* | Cured | Deaths** | Total Confirmed cases* |
| --- | --- | --- | --- | --- |
| Andaman and Nicobar Islands | 0 | 33 | 0 | 33 |
| Andhra Pradesh | 1546 | 2466 | 68 | 4080 |
| Arunachal Pradesh | 37 | 1 | 0 | 38 |
| Assam | 1255 | 413 | 4 | 1672 |
| Bihar | 2288 | 2077 | 25 | 4390 |
| Chandigarh | 82 | 214 | 5 | 301 |
| Chhattisgarh | 478 | 188 | 2 | 668 |
| Dadar Nagar Haveli | 7 | 1 | 0 | 8 |
| Delhi | 13497 | 9542 | 606 | 23645 |
| Goa | 22 | 57 | 0 | 79 |
| Gujarat | 4766 | 12212 | 1122 | 18100 |
| Haryana | 1842 | 1089 | 23 | 2954 |
| Himachal Pradesh | 204 | 150 | 5 | 359 |
| Jammu and Kashmir | 1816 | 1007 | 34 | 2857 |
| Jharkhand | 426 | 321 | 5 | 752 |
| Karnataka | 2496 | 1514 | 53 | 4063 |
| Kerala | 832 | 651 | 11 | 1494 |
| Ladakh | 41 | 48 | 1 | 90 |
| Madhya Pradesh | 2772 | 5445 | 371 | 8588 |
| Maharashtra | 39944 | 32329 | 2587 | 74860 |
| Manipur | 80 | 38 | 0 | 118 |
| Meghalaya | 19 | 13 | 1 | 33 |
| Mizoram | 13 | 1 | 0 | 14 |
| Nagaland | 58 | 0 | 0 | 58 |
| Odisha | 965 | 1416 | 7 | 2388 |
| Puducherry | 57 | 25 | 0 | 82 |
| Punjab | 300 | 2029 | 47 | 2376 |
| Rajasthan | 2699 | 6744 | 209 | 9652 |
| Sikkim | 2 | 0 | 0 | 2 |
| Tamil Nadu | 11348 | 14316 | 208 | 25872 |
| Telengana | 1365 | 1556 | 99 | 3020 |
| Tripura | 295 | 173 | 0 | 468 |
| Uttarakhand | 795 | 282 | 8 | 1085 |
| Uttar Pradesh | 3324 | 5176 | 229 | 8729 |
| West Bengal | 3583 | 2580 | 345 | 6508 |
| Cases being reassigned to states | 7483 |   |   | 7483 |
| Total# | 106737 | 104107 | 6075 | 216919 |
(With inputs from IANS)
ALSO READ | WHO says anti-malaria drug hydroxychloroquine coronavirus trials to resume
ALSO READ | Coronavirus cases worldwide cross 6.5 million mark; death toll at 3,87,911
​