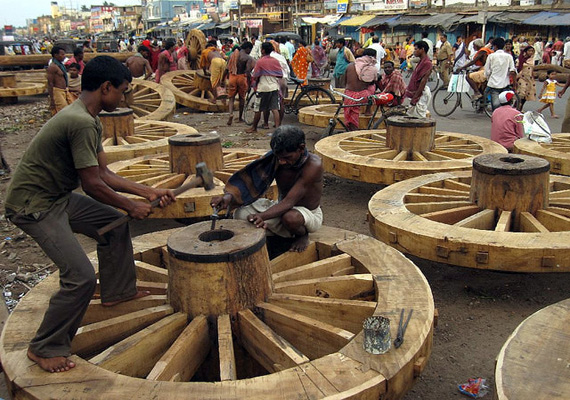 Bhubaneswar: The construction of three gigantic wooden chariots of Lord Jagannath has kicked off for the annual June 29 Rath Yatra, or chariot festival, at Odisha's Puri city, an official said Saturday.
Going by tradition, the construction work started on Akshaya Tritiya, the third day of the bright half of the lunar Vaisakha month in the Hindu calendar, which this year fell on Friday.
The carpenters took off the bark from three wooden logs placed in front of the temple after special rituals were performed Friday evening, temple public relations officer Laximidhar Puja Panda told IANS.
Every year, Lord Jagannath, his brother Balabhadra and sister Subhadra are taken out of the 12th century Jagannath temple, 56 km from state capital Bhubaneswar, in chariots to the Gundicha temple in the city.
Nearly 100 carpenters will construct the three gigantic chariots for the deities - Nandighosha for Lord Jagannath, Taladhwaja for Balabhadra and Debadalana for Subhadra.
Nandighosh is 45-feet-high and has 16 wheels. It has red and yellow fabric on its roof and a wheel is placed on top of it.
Taladhwaja is 44-feet-high and consists of 14 wheels. The colour of its roof is red and green and a fruit is placed on top. The 43-feet Padmadhvaja has 12 wheels and its roof is red and black.
Four intricately carved wooden horses precede each chariot. Thousands of devotees pull the chariots with the help of four ropes tied to each chariot.
Panda said the temple administration has asked for 612 wooden logs for constructing the chariots and the forest department has already supplied 252.
The remaining wood would be supplied by the forest department in a few days, he said.