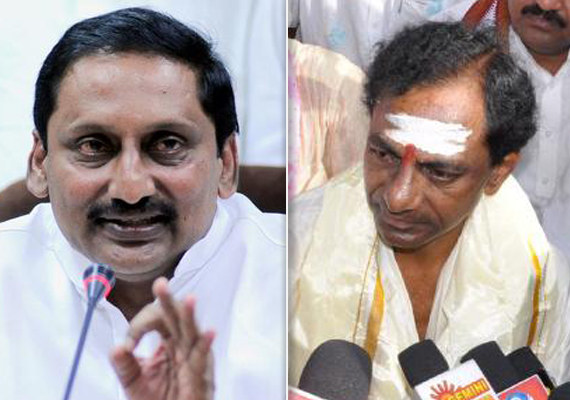 New Delhi, Mar 21: In significant upsets, the Congress today wrested a Lok Sabha seat in Karnataka and an Assembly seat in Gujarat in two BJP strongholds after 15 years but it was routed in Andhra Pradesh due to the Telangana factor.
In Karnataka, where BJP is rocked by dissidence, the Congress snatched a comfortable 45,724 vote victory in Udupi Chikmagalur seat, which has been with BJP since 1998, and more significantly bagged the Mansa Assembly seat, held by BJP since 1995, in Narendra Modi-dominated Gujarat.
Assembly elections are due in Karnataka next year while they are due in Gujarat in eight to nine months from now now.
The counting of votes in the Sunday bye elections in 6 states were taken up and completed today.  With today's win in Udupi-Chikmagalur, the Congress' strength in Lok Sabha goes up to 207.
Congress suffered a rout  when its candidates were defeated in all the seven Assembly constituencies in Andhra Pradesh where Telangana Rashtra Samiti (TRS) showed its dominance in Telangana region winning four seats and helping an Independent bag the fifth. BJP won one seat in the region.
YSR Congress, headed by late Chief Minister Y S Rajasekhara Reddy's son Jaganmohan, won the Kovur seat in coastal Andhra Pradesh in its first foray outside the home base of Kadapa in Rayalaseema region of Andhra Pradesh.
In the other bye elections in which counting of votes were done today, the ruling AIADMK retained the Sankarankoil Assembly seat in Tamil Nadu as expected and the BJD the Athgarh seat in Odisha.
In sweet revenge in Karnataka, where BJP is battling a leadership crisis and serious corruption charges, the Congress wrested the prestigious Udupi-Chikmagalur Lok Sabha seat from it by a handsome margin of 45,724 votes.
Congress candidate K Jayaprakash Hegde polled 3,98,723 votes as against BJP's Sunil Kumar's 3,52,999 votes.
BJP's defeat was particularly humiliating as the Udupi Chikmagalur seat was held by Chief Minister Sadananda Gowda, who resigned from it after he took over as Chief Minister last year.
With today's victory, the Congress has reestablished its hold in the constituency that spreads across parts of coastal and Malnad regions, which had remained a strong bastion of BJP in the last four elections.
This is the second defeat for BJP in the bye elections in the state since November.  BJP rebel candidate B Sreeramulu won the Bellary Assembly seat pushing the ruling party to third place in the November by poll.
In Gujarat, the Congress snatched Mansa Assembly seat from the ruling BJP by over 6,000 votes. Congress candidate Babuji Thakore defeated BJP's D D Patel in the constituency which has remained loyal to BJP since 1995.
Congress described the victory as significant as Mansa is part of Gandhinagar, the seat of government power.
The result in Piravom Assembly by election in Kerala has come has a morale booster for the Congress-led UDF government when Anoop Jacob, a candidate of the one of the constituents Kerala Congress (Jacob), won defeating LDF's M J Jacob by a good margin of 12,070 votes.
The battle was crucial for both the fronts as UDF's strength was reduced to 71 in the 140-member Assembly with the death of T M Jacob, while LDF's  number hadf come down to 67 with the recent resignation of a CPI(M) member N Selvaraj.