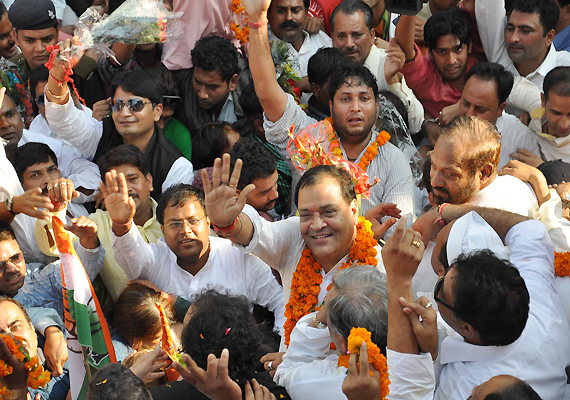 Dehradun, Mar 9: Decks were today cleared for the formation of a Congress-led government in Uttarakhand with the Governor saying that the party has the numbers after it paraded the three independent MLAs and the lone UKD legislator in its support before her.

The Congress formally staked claim before Governor Margaret Alva and physically paraded the four MLAs required for the party to reach the magic figure of 36 in a House of 70.

After verifying the support from the three independents and one MLA from UKD-P, Alva said she would invite Congress, which has 32 MLAs, to form the new government once it elects a new leader of the CLP.

"Congress has staked the claim as it has the requried number for the formation of new government in the state. When they (Congress) will elect its new leader, I will invite them to form the government," Alva told reporters after senior Congress leaders, accompanied by the three independents and the lone MLA from the Uttarakhand Kranti Dal (Panwar), met her at the Raj Bhavan.

The three independents were Harish Durgapal from Lal Kuan seat, Mantri Prasad Naithani from Devprayag seat and Dinesh Dhanai from Tehri and the UKD MLA is Pritam Singh Panwar from Yamunotri.

"Once the leader is chosen, the swearing-in ceremony will be held," Alva said.

From Congress' side, party general secretary Chaudhary Birendra Singh, PCC chief Yashpal Arya, leader of the opposition Harak Singh Rawat, senior party leader and Tehri MP Vijay Bahuguna were among those who were present at the Raj Bhavan.

Asked whether Congress was given certain deadline for electing its new leader, Alva said it was up to Congress to take a decision. "It is not my job," she said.

Later, Birendra Singh said the party has submitted letters of support from 36 MLAs to the Governor.  Singh said the party has already started the process for electing new leader of the CLP.

He said a team of Congress observers is coming to Dehradun tomorrow to take views of the newly elected MLAs about the new leader.

After this, the new leader will be elected, he said. Asked on who were the front-runners, Singh said, "Congress has no dearth of chief ministerial material." Naithani, a rebel Congress MLA, told reporters that he wanted senior Congress leader Satpal Maharaj to become the new chief minister for which he has already conveyed his views to party president Sonia Gandhi.

He also said that he is willing to rejoin the Congress.