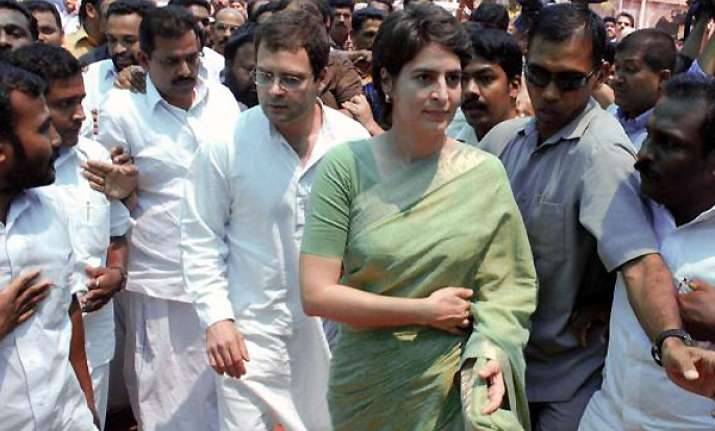 New York, March 7: The influential US newspaper New York Times has described the assembly election results as a "defeat for Nehru-Gandhi dynasty" and has reported that observers are already looking towards Priyanka Vadra.

".....Congress's defeat in the state is a particularly significant setback for Rahul Gandhi, who said on Tuesday that he accepted responsibility for the party's poor showing. Some analysts and political leaders are already beginning to look past  Rahul Gandhi to his younger sister, Priyanka Gandhi Vadra, as a potential political heir.

"Many observers consider Ms. Vadra, who bears a striking resemblance to her iron-willed grandmother, Indira Gandhi, to be more charismatic and a better public speaker than her brother.

"The issue of succession in the Congress Party has attracted attention in recent months because the mother of Mr. Gandhi and Ms. Vadra, Sonia Gandhi, who is the party's current president, spent more than a month abroad last year receiving treatment for an undisclosed ailment.

"Most analysts do not expect any immediate changes at the top of the Congress Party, least of all any moves that involve members of the Gandhi family. In spite of her recent illness, Mrs. Gandhi, 65, remains firmly in charge of the party, and she is not known for making sudden moves. She also keeps her intentions and thoughts to herself, rarely giving interviews or news conferences.

"Congress has no better campaigner, with the possible exception of Priyanka," Ashutosh Varshney, political scientist at Brown Uniersity, said about Mr. Gandhi. "You can say that is because the Gandhi family does not let anyone else emerge. It is what it is."

The NYT report said the defeat in UP has called " into question their political mandate at a time when the party and the family are already struggling to advance their agenda in the capital. "

The report said; "Political analysts said the results in Uttar Pradesh and the four other states holding contests, just two years before national elections, would make it more difficult for Indian policy makers to rally together to bolster a slowing economy and improve the performance of a government that has been under attack for corruption scandals and slow decision making.

"Instead, the outcome suggested that Indian politics would probably remain deeply divided along regional lines for the foreseeable future. Neither of the country's two large national parties — the Congress nor the opposition Bharatiya Janata — appeared to have won a clear mandate on Tuesday. Voters, especially in big states, voted in far bigger numbers for regional parties that they thought would look after their interests better than parties run from New Delhi.

"For the last year or so, the central government has been pretty beleaguered in terms of its authority and its ability to negotiate all kinds of things," said Pratap Bhanu Mehta, president of the Center for Policy Research in New Delhi. "Those things in the short run have gotten a little harder because it does not carry political authority."

Political analysts said the Congress Party's poor showing in Uttar Pradesh raised doubts about its ability to win re-election at the federal level in 2014, as well as Rahul Gandhi's prospects as a future prime minister.

"Congress needs more coalition partners to retain power in 2014," said C.P. Bhambhri, a professor and the former dean of Jawaharlal Nehru University in New Delhi. "It will be difficult for Congress to repeat the 2009 election performance."

The report had praise for Akhilesh Yadav. It said; "Yadav, 39, transformed the perception of the Samajwadi Party, which his father, Mulayam Singh Yadav, founded and still leads, from thuggish and backward to progressive. In the recent campaign, the younger Mr. Yadav promised free tablet and laptop computers to high school and college students; in earlier elections, the party had pledged to remove computers from government offices to create more jobs.

"His party also benefited because voters grew increasingly disillusioned with Ms. Mayawati, an icon for her fellow Dalits, the lower-caste Hindus once known as untouchables. An enigmatic leader whose supporters often adorned with giant garlands made of cash, Ms. Mayawati, who uses only one name, was tainted by numerous corruption scandals.

"Mr. Yadav's defeat of Ms. Mayawati "is a testimony of the rejection of caste politics vis-à-vis the concerns of development," said Anil Kumar Verma, the chairman of the political science department at Christ Church College in Kanpur.

'During the campaign, Mr. Yadav was often compared favorably to Mr. Gandhi, 41, who is the great-grandson of India's first prime minister, Jawaharlal Nehru, and who was also trying to transform the perception of his family's party in the state.

"2007, Congress barely won 5 percent of the seats in the Uttar Pradesh state assembly. Mr. Gandhi turned down offers from India's prime minister, Manmohan Singh, to serve in the national cabinet, saying he wanted to focus on Uttar Pradesh, which has long been his family's political base. "