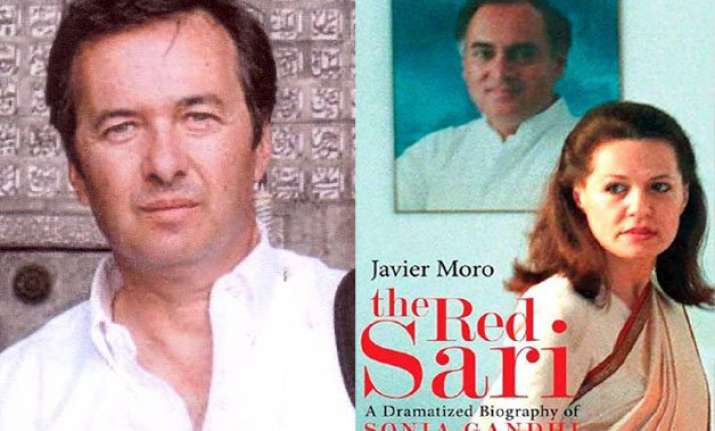 New Delhi: Javier Moro, the author of Sonia Gandhi's biography 'The Red Sari' has accused the Congress party of launching a terror campaign against his book.
Speaking to Times of India, Javier went to the extent of saying that Sonia's party tried to kill the book to scare-off English language publishers.
"A senior Congress leader launched a campaign against the book to scare away publishers. It was like a terror campaign against the book, they tried to kill it scaring off English-language publishers," said Javier Moro.
"The Congress emailed my Spanish publishers threatening them, almost ordering them to withdraw the book from all bookstores, even though by then it had been published in Spanish, Italian and other languages, not in English," added Javier.
The author, however, is relieved that his book has finally been published in India.
The Spanish author wrote a 'dramatized' life story of Congress Chief Sonia Gandhi, titled as 'The Red sari' which was not allowed to be published in English in India.
The book earned repulsive reaction from Congress even before it was printed in English.
Moro says that threat mails were sent to him on regular basis by the congress party members.
He mentioned that Congress had been trying to maintain a fake image of Sonia Gandhi which is not required.
"Congress does a terrible job of managing Sonia's image," said Moro and wondered as to why the party was working relentlessly to keep her Italian origin under wraps.
"They've turned her into a robot. They are so busy proving she's Indian, she's Indian, that they're trying to draw a portrait of her that doesn't correspond with reality. Truth is Sonia may have tried to become Indian but once you eat pasta you always eat pasta. She may be ruling India, but she's still Italian." said Moro.
The book also mentions how she became the  ruler of India which made her one of the most powerful ladies of the world.
Interestingly, the book  also mentions that her father was always scared after she married Rajiv Gandhi as he always thought that the Indians would throw her to the tigers.
Being an admirer and not criticizer of Sonia Gandhi, he says that the portion of the book on which Congress raised objections are those where he has talked about the Emergency time during Indira Gnadhi's reign. He says that the only problem with Sonia was that she was an Italian ruling over a billion Indians which Congress was trying to shove off.
However, he holds a different impression of the Congress party president, 'she is formidable and not a nice sweet girl, she's equal to the position destiny put her in,' said Moro.
He further revealed that Sonia was very timid in her younger days and the conversations between her and Rajiv Gandhi are only the author's invention and not real.
In the wake of attacks on free speech admirers like Charlie Hebdo, Moro is apprehensive and not sure how his book will be received in India as his effigies had already been burnt recently by Congressmen opposed to his book.