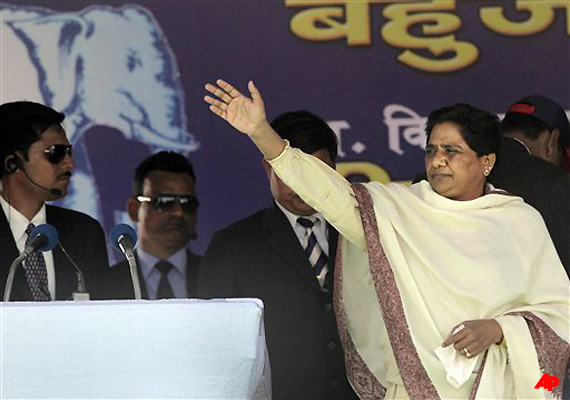 Jaunpur/Varanasi, Feb 10: Uttar Pradesh Chief Minister Mayawati today alleged that Congress was enacting a "drama" on the Batla House encounter and said the Muslim community should exercise vigilance against such "designs".  

"Congress is enacting a drama on the Batla House encounter case... had it been really serious it would have ordered a judicial probe so that the reality could come before people," Mayawati told an election rally.

Instead of a probe, Congress is only trying to "mislead Muslims and the community should be vigilant against such designs", she said.

Alleging that Congress was not implementing the Sachchar Committee report and was merely "shedding crocodile tears", the chief minister said, "Congress did nothing for the welfare of the community and only treated it as a vote bank".

Lashing out at opposition parties, she said that Congress, SP and BJP were unable to digest that BSP government had successfully worked for the welfare of all sections of society.

Those playing with the sentiments of people should not be allowed to come to power, she said.

Accusing the Centre of having "casteist mentality", Mayawati said that it was because of this that UPA government did not give any package to the state and hindered welfare works of her government.

"The Centre did not take any initiative to deal with the recurring problem of floods in purvanchal," she said.

"People of Uttar Pradesh will never forgive Congress for remembering B R Ambedkar and BSP fouder Kanshiram only at the time of elections. The Congress-led UPA government did not even declare a day's mourning in memory of Kanshiram when he had passed away," Mayawati said in Varanasi.