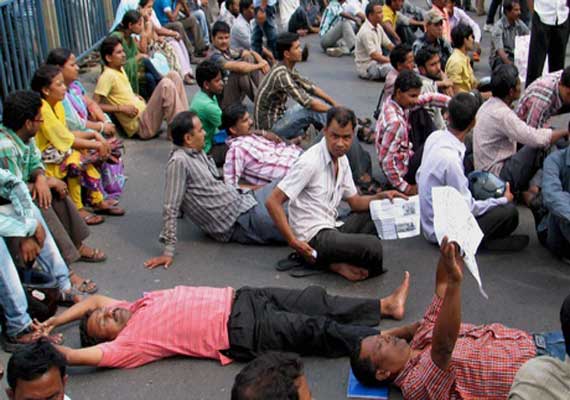 Bhubaneswar, July 31: Thousands of investors allegedly duped by chit-fund companies through various ponzi schemes staged a protest here Wednesday.
Carrying placards and banners, the protestors demanded that their investment be returned, and raised anti-government slogans near the state assembly complex.
"The government should set up grievance cells across the state to receive our complaints. Steps should also be taken to return the money of all the investors," a protestor demanded.
"The government has not been acting tough against such companies. The assets of chit-fund firms have not yet been confiscated," he added.
Last year, a probe was launched into the alleged chit-fund scam after many investors complained that several firms collected hunge amounts of money from them but later refused to pay back as promised.
The economic offence wing of the Crime Branch of Odisha Police has been investigating the allegations.
Although police raided offices of several such companies and arrested a score of people for irregularities, the government has been facing attack from the opposition parties.
The government in May ordered a commission of inquiry to probe the alleged fraud committed by the chit-fund companies and suggest ways to safeguard the interests of genuine investors who have been affected.
The companies which have been accused of duping people include the Kolkata-based Saradha Group, and Odisha-based Seashore and Artha Tatwa groups. The loss from the scam is claimed to be running into billions of rupees.
The state government early this month announced it would create a corpus fund of Rs.300 crore to help victims of the chit-fund scam but the protestors claimed that no formal notification in this regards has been issued yet.