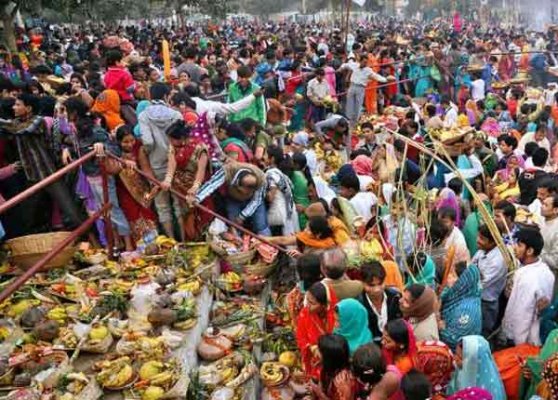 New Delhi: Lakhs of devotees today offered the morning 'arghya' to the rising Sun at various ghats in several cities including Patna, Ranchi, Delhi and Mumbai.
The four-day long festival of Chhath that commenced with 'nahai-khai' on Monday concluded today with the final obeisance paid to the Lord Sun.
Prasad that include 'thekua' and other items were distributed by the 'vratis' among the people present at the ghats.
In Delhi, festive mood prevailed at different ghats with children bursting crackers. All roads leading to the river Yamuna were decked up with fancy lights. Soothing Chhath songs were played on loudspeakers.
In Patna, tight security arrangements were put in place. Senior police officers were keeping a close watch to avoid any untoward incident in the wake of 2012 Adalat ghat stampede that claimed 16 lives.
Huge banners asking people to be alert were seen at various places in the city. Police announcements were also heard.
Devotees had on Wednesday evening performed the 'Sandhya Arghya' (evening offerings) to the setting Sun.
According to Hindu calendar, the festival is celebrated on the sixth day of the Kartik month.