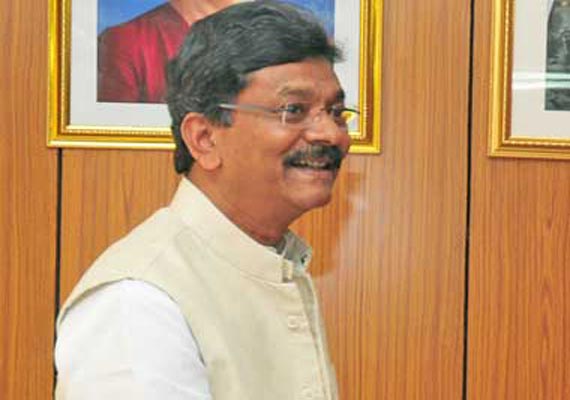 New Delhi, Jul 28: Union Minister Charan Das Mahant was on Saturday night named Congress chief for Chhattisgarh as the party, in a major pre-poll exercise, reconstituted its state unit two months after the Maoist bloodbath that had virtually wiped out its leadership in the state.
Assembly elections are scheduled in the BJP-ruled state this year.
The party also set up its Co-ordination Committee and Pradesh Election Committee besides appointing five spokespersons and a dedicated social media and research department, first of its kind in any state as envisaged by
Rahul Gandhi
who is keen to tone up the party's communication system across the country.
"Congress President
Sonia Gandhi
has approved the proposal for reconstituting the Chhattisgarh Pradesh Congress Committee, Pradesh Election Committee, Coordination Committee and some other appointments," a release by AICC General Secretary in-charge of Organizations Janardan Dwivedi said.
Senior Party leaders Motilal Vora and Ajit Jogi have been made members in the six-member Co-Ordination Committee which also has AICC general secretary in charge for the state B K Hariprasad, Mahant, CLP leader Ravindra Choubey and AICC secretary in-charge the state and party spokesperson Bhakta Charan Das as members.
The 11-member Pradesh Election Committee has members from all segments including Dalits, OBCs and minorities. Senior leader Mohsina Kidwai, Mahant, Choubey, Vora, Jogi are among the members.
Parash Ram Bhardwaj, Dhanendra Sahu, Ram Pukar Singh, Mohd. Akbar, Bodha Ram Kanwar and Dhanesh Patila are also its members.
Maoists had ambushed a convoy of Congress leaders in Chhattisgarh's Bastar district May 25, killing 27 people including state Congress chief Nand Kumar Patel, his son Dinesh, senior Congress leader Mahendra Karma, V C Shukla and ex-MLA Uday Mudaliyar.
More than a week after the incident, Mahant was made the acting Chairman of PCC.
In some other announcements, former PCC chief of Tripura
Sudip Roy Burman has been appointed as CLP leader.
Gandhi also okayed the setting up of six-member Corodination Committees each for Tripura and Nagaland, which include AICC general secretaries incharge for these states besides their PCC chiefs, CLP leaders and AICC secretaries in-charge.