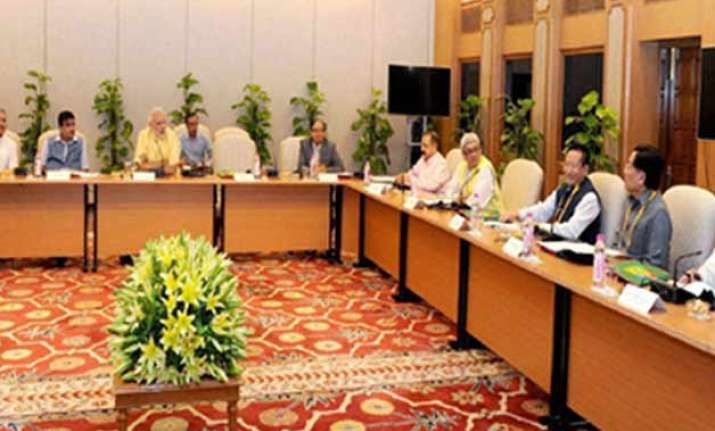 New Delhi:  Funds to the tune of Rs 92,000 crore will be spent by the Centre on development of North East, including construction of highways and developing rail networks, Prime Minister Narendra Modi said today as he held a meeting of the Chief Ministers of the region here.
Chief Ministers of Congress-ruled Assam, Meghalaya, Manipur and Arunachal Pradesh and Mizoram did not participate in the meeting which was attended by Chief Ministers of Nagaland, Sikkim and Tripura and Finance Minister of Mizoram.
At the meeting, Modi expressed his government's resolve to ensure rapid and sustainable development of the region.
"Under Special Accelerated Road Development Programme for the North-East), Rs 35,000 crore is proposed to be invested to develop the Trans-Arunachal Highway and for connecting all district headquarters by a two lane highway (about 6,400 km), he said, according to a PMO statement.
"New rail network is being created in addition to strengthening the existing network at a cost of Rs 57,000 crore," he said at the meeting.
The Chief Ministers present were briefed on infrastructure initiatives taken up by the central government in the North Eastern region through a NITI Aayog presentation.
It was agreed that the Empowered Committees-led by the State Chief Secretaries constituted pursuant to the decision of the NITI Governing Council need to be even more proactive in monitoring the implementation of infrastructure projects and remove bottlenecks in order that time and cost overruns can be avoided.
"There has been a significant ramp-up in infrastructure investments by the Government of India in the North East since Narendra Modi took over as Prime Minister," the statement said.
Similarly investments are being taken up by the telecom, power, civil aviation and shipping ministries in order to improve the connectivity - air, road, rail and internet - of the region, internally as well as externally under the Act East policy of the central government, the release said.
The meeting was attended among others by the Finance Minister Arun Jaitley, Vice Chairman NITI Aayog Arvind Panagariya.