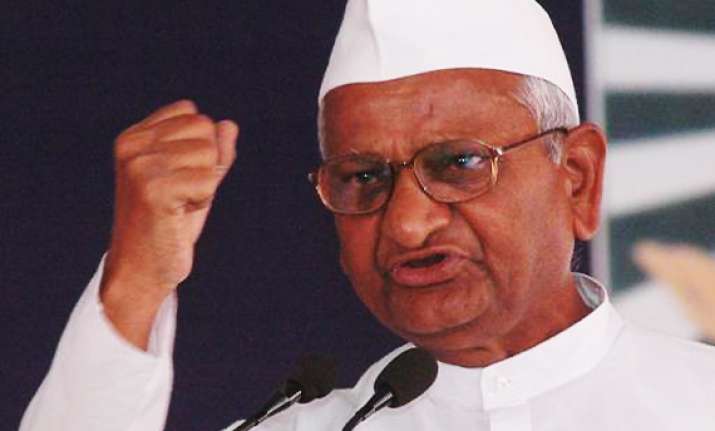 Ralegan Siddhi, Dec 7: Anti-corruption crusader Anna Hazare today charged the Centre of resorting to delaying tactics on the issue of Lokpal Bill.

Addressing mediapersons here, Hazare demanded that Group C and D employees must be brought under the purview of Lokpal.

The Gandhian opposed the move by the Centre to circulate the Lokpal Bill draft to the state governments.

"When Parliament has given its sense of the house in a resolution, then why is the Centre now talking of sending the bill to the states? This shows that the government lacks the will to get the Lokpal bill passed", he alleged.

Hazare reiterated that he would sit for a day's fast at Delhi's Jantar Mantar on Dec 11, and again at Ramlila Maidan on Dec 27, and even after this if the Lokpal Bill is not passed, he would campaign against the Congress in the forthcoming Assembly polls.

Hazare said the Centre was "cheating" on the issue of Lokpal. He used the word "Dhokebaaz" (cheat).

He said, he has been raising the issue since April 5 at Jantar Mantar. "Eight months have passed and it is now December, and yet the government is not serious about Lokpal. The truth is, the government does not want in its heart of hearts to get the bill passed."

When it was pointed out that the winter session of Parliament had only a few days left, Hazare said, "Why can't it be extended? If you have the will, then nothing is impossible. Extend the session and get the Lokpal Bill passed."

Hazare refused to be drawn into the issue of Sharad Pawar criticising his brand of Gandhism.