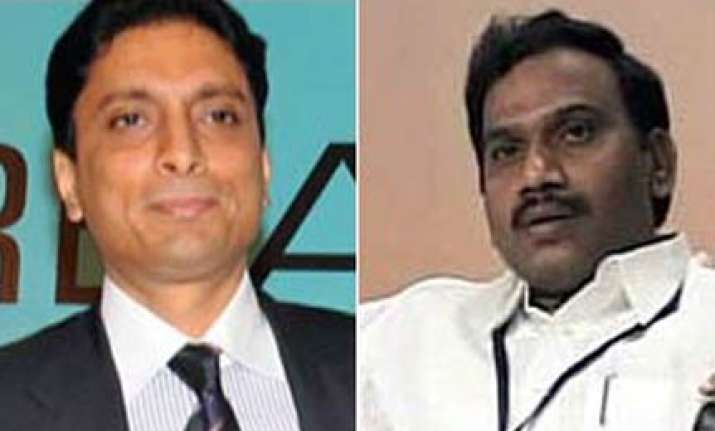 New Delhi, Feb 9:  The Central Bureau of Investigation (CBI) will now confront former Telecom Minister A Raja with Shahid Balwa, the promoter of DB Realty which floated Swan Telecom.
Balwa was arrested from his house in Mumbai on Tuesday in connection with the 2G spectrum scam. He will be produced in a Mumbai court today and then brought to Delhi.
Raja was arrested eight days ago by the CBI in connection with the 2G scam which he is alleged to have masterminded. In court on Tuesday, the CBI asked for four more days to question Raja. The judge agreed to two more days of custody for the former Telecom Minister. During its interrogation now, the CBI is hoping to establish Raja's link to the money trail in the scam.
The CBI says that in 2008, when the government was allocating 2G spectrum for mobile phone networks, Raja twisted the rules to benefit a few companies - especially Swan and Unitech.
The licenses for 2G spectrum were not auctioned, as many say they should have been. Raja chose to follow a first-come-first-served policy which was set by his predecessors. But the CBI's case is based on his office advancing the deadline for payments and informing only some of the players. Companies like Swan and Unitech seemed to have been tipped off to this, because despite the cut-off date being brought forward, they had their payments ready.
After winning their licenses, Swan and Unitech sold equity to foreign companies much before they began the rollout of their services. The giant profits they made seemed to underscore the point that spectrum had been sold far too cheaply by the government.
Swan paid Rs. 1537 crore and sold 45% stake to UAE-based Etisalat for a profit of Rs. 4, 730 crore. The DB group's telecom arm, earlier known as Swan Telecom, is now known as Etisalat-DB.
According to sources, over Rs. 200 crore was allegedly transferred by DB group to a media company owned by DMK party members.
Unitech paid Rs. 1661 crores for its license, and sold 60% stake to Telenor for Rs. 6200 crore.
Together, these two players cost the government Rs. 7,195 crore, according to the CBI. Both Swan and Unitech have denied these allegations.