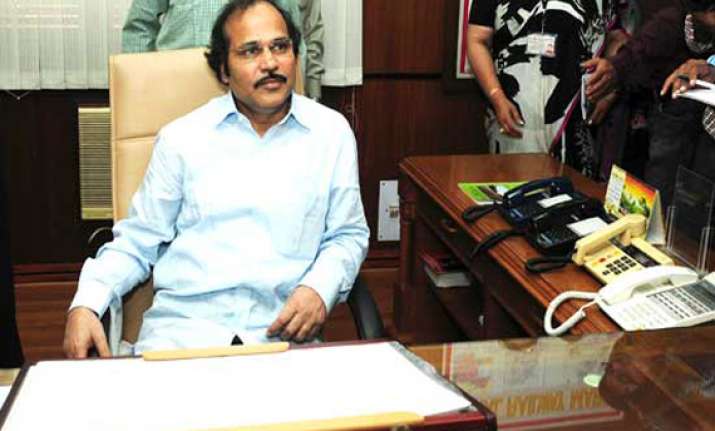 Kanchrapara (WB), Nov 26:  Union Minister of State for Railways Adhir Ranjan Chowdhury today spoke against granting employment as a rule to all those giving land for rail projects as it would pose difficulty in Railway's development.
"Railway projects will suffer if land is not available and state government has to acquire land for it. It is also not possible to give employment to people giving land required for rail projects", he told reporters here after inaugurating 150 years celebration of Eastern railway workshop.
He said that Railways could consider giving employment to those giving land in some special situation but it could not be a general rule.
"If employment has to be given to those giving land for rail projects, then around two lakh jobs have to be given in the Eastern railway alone which is one of the 17 zones in the country. It will pose impediment to Railway's development", he stated.
Referring to speculation that railway projects in the state announced by his predecessors belonging to Trinamool Congress might be stalled, Chowdhury said, "No one should think that West Bengal will be deprived by the Railways.
 We will see how those railway projects and factories can be implemented. It will be our priority. But we have to strike a balance between resources and projects. We will give importance to all the states".
The minister also laid stress on expanding railway services in the country to cater to the growing need of the people.
"Everyday I receive several calls from the people for reservation of seats which shows that there is a mismatch between demand and supply. We have to try to expand the railway network and service", he said.
He said that new railway lines have to be laid besides, doubling of lines and increasing the speed of trains. Describing the Railway as pollution free and cheapest mode f transport, Chowdhury said that Railways which transport 25 lakh tonne goods and 2.5 crore passengers everyday, has to keep in mind its social obligations as well.
He announced that a museum would be built here to preserve the legacy of Kanchapara workshop which completed 150 years.