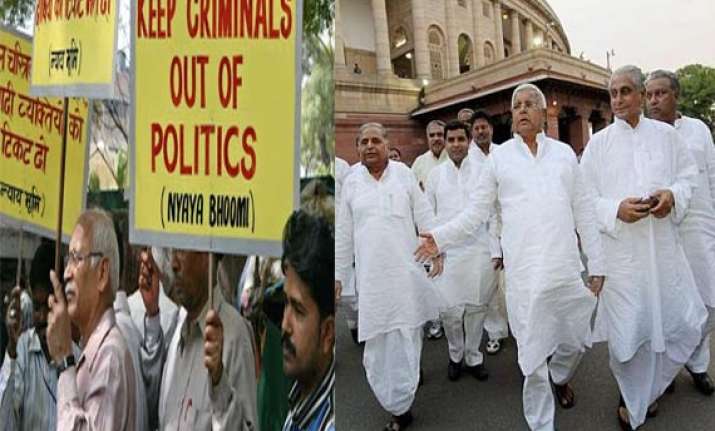 New Delhi: Seeking to negate two Supreme Court verdicts, the Cabinet today gave its nod to proposals that will allow people in jail to contest polls and convicted MPs and MLAs to retain their membership till pendency of appeal while being barred from voting and drawing salary.
The two proposals were approved in the form of amendments to the Representation of People Act and separate bills will be tabled in Parliament next week, sources said.
As per one amendment, an MP, MLA or MLC cannot be disqualified after conviction if he or she files an appeal within 90 days from the date of conviction and such conviction is stayed.
A proviso added to sub-section (4) of section 8 of the RP Act makes it clear that the convicted member shall continue to take part in proceedings of Parliament or Legislature of a state but he or she shall neither be entitled to vote nor draw salary and allowances till the appeal or revision is finally decided by the court, according to the draft bill.
"This is what the Supreme Court rules while dealing with such petitions. What the SC says has been incorporated into the Act," a top Law Ministry functionary said adding that it will help keep criminals out of legislatures.
Another amendment cleared by the Cabinet adds a proviso to sub section (2) of section 62 of the RP Act to state that a person cannot cease to be a voter while in detention as his or her right is only temporarily suspended.
It further states that as the name of person in jail continues to be on electoral role, he or she also continues to be an elector and file nomination for election.
The amendments to the RPA shall come into effect from July 10, 2013, the day the Supreme Court gave the two judgements providing for immediate disqualification of convicted lawmakers and barring those in jail from contesting.
The apex court judgements had brought together all political parties which wanted these to be negated.