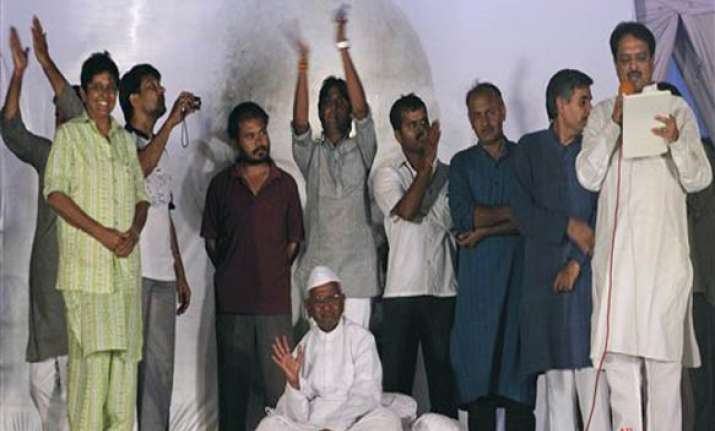 New Delhi, Aug 28: Here is how the Indian Express describes the various twists and turns which ultimately led to the government acccepting Anna's three main demands albeit conditionally.

The report says, barely an hour before Anna Hazare announced his decision to break fast on Sunday morning, his team was keeping the government on tenterhooks.

Emerging from the Lok Sabha after the resolution was passed, as Union Minister Vilasrao Deshmukh was preparing to go to Ramlila Maidans carrying Prime Minister Manmohan Singh's letter, Congress MP Sandeep Dikshit, a key interlocutor, was unsure about the outcome. "Let's see what happens. I wouldn't say anything until they (Team Anna) make an announcement," he told The Sunday Express.

There were reasons for his frayed nerves. The resolution passed by Parliament was the third draft and even that was finalised only after Prime Minister Manmohan Singh and the government's chief interlocutor Pranab Mukherjee ruled out a Cabinet colleague's objection to give "in-principle" agreement on the three contentious points.

After Anna read the PM's letter in the evening, he called his team and delivered his verdict: "I have received the Prime Minister's letter and I am satisfied. I am going to break my fast."

As the crowd outside erupted in jubilations, the government interlocutors heaved a sigh of relief. Their multi-pronged strategy had worked—holding direct dialogue with Anna through Deshmukh and Bhayyuji Maharaj; involving Congress MP Sandeep Dikshit and Pawan Khera, political secretary to Delhi Chief Minister Sheila Dikshit, to use their past association with NGOs to engage Anna's team; and, deploying veteran crisis manager Pranab Mukherjee to oversee and coordinate the entire process with Law Minister Salman Khursheed and other Cabinet colleagues.

After Prime Minister's statement in the Lok Sabha proposing a discussion in Parliament, Deshmukh had a one-on-one meeting with Anna during which the latter agreed to break his fast if Parliament discussed the three contentious issues.

As Deshmukh returned with the message, the Prime Minister was learnt to have enquired, "Are you confident that he will break his fast after that?" Early in the morning that day, around 3 am, Bhayyuji Maharaj had met Anna and had given feedback to Khursheed about Anna's willingness to talk.

This came even as Sandeep Dikshit, who had publicly opposed Anna's arrest on August 16, had managed to engage Anna's team in a dialogue. Rahul Gandhi had returned from abroad and had favoured dialogue with the civil society, rather than a confrontationist approach.

As initial talks had started, the government's interlocutors sensed a possible opening when Anna demanded to provide them Marathi translations of the other drafts and documents of the anti-graft legislation. That had set the stage for the deployment of Marathi interlocutors.Last 12 hours leading to the Parliament resolution turned out to be the most excruciating in terms of back-and-forth approach on both sides.

Since Saturday morning, when Dikshit, Khursheed and Khera met Medha Patkar and Bhayyuji Maharaj and agreed on a draft resolution, it was changed at least twice.

In the afternoon when Arvind Kejriwal and Medha Patkar waited at Khursheed's residence for the government's response, the government started having second thoughts about the resolution and Khursheed was asked to stay put in Parliament, instead of going home, until a final decision was arrived at.

The government did not want a resolution that would entail voting, as it wanted to give a sense of the House, and not any indication of fissures among public representatives.

An upset Team Anna termed it as a "betrayal" and raised the stakes again: that Anna would break the fast after Parliament passes the resolution but the dharna at Ramlila Maidan would continue until the Lokpal Bill is passed. To this end, they revived their demand to extend the session.Union Minister Kapil Sibal and TKA Nair then prepared a second draft, which was not acceptable to Team Anna, which wanted voting on the resolution.

Amid all this, Arvind Kejriwal was said to have told the BJP leadership that Khursheed had told him that the BJP was not in favour of voting. The opposition party was upset as it had already agreed on a resolution.

Senior BJP leader L K Advani and Leaders of the Opposition in the two Houses Arun Jaitley and Sushma Swaraj then met Pranab Mukherjee in the presence of Minister of State for Parliamentary Affairs Rajiv Shukla and expressed their displeasure about Khursheed's purported remarks to Kejriwal. Pranab then took them to the Prime Minister. After over an hour long discussion, it was decided to bring a resolution.

Sources said that Hazare had informed the government that he was agreeable to even a letter from the Prime Minister stating the sense of the House once the debate got over. But his lieutenants had insisted on a resolution. It was the PM who was learnt to have persuaded the opposition leaders not to have voting on the resolution.

The Prime Minister, who had held at least two rounds of discussions with Rahul Gandhi over the government's course of action since the beginning of Anna's fast, is said to have favoured a three-pronged strategy: dialogues and negotiations; no compromise with Team Anna when it came to sovereignty of Parliament in legislation-making; and, finally, a debate in Parliament.

"What also helped us immensely was the divisions in Team Anna. One of them would agree on something and after a few hours another one would reject it. Engaging Anna directly was actually the key to our success," said one of the interlocutors.