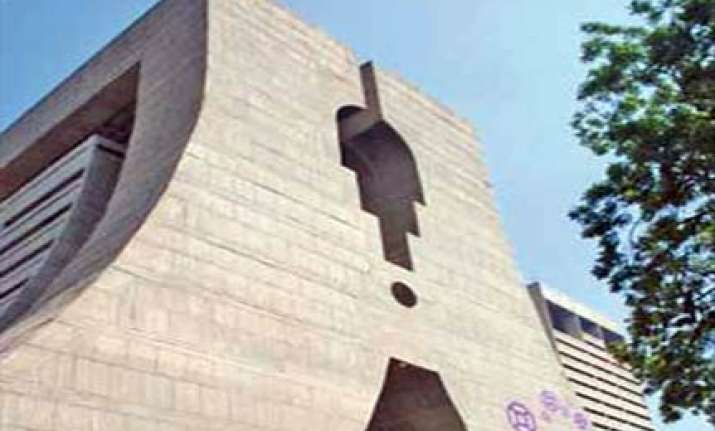 The timing is rather suspicious. Over the last seven days the CWG Organising Committee (OC) head office has been burgled several times. Computers of senior OC officials were targeted by the accused who stole the hard disks of the systems, reports MidDay.
Sight Seeing: Cameras are installed on the seventh and eighth floor ofthe OC office building (above)at Parliament Street. Pic/mid day
Police personnel close to the investigation said that the matter is serious as CBI, CVC earlier raided the OC office and there is an ongoing multi-agency probe in the alleged corruption in the recently held Commonwealth Games.
A police source said that a pantry boy was caught removing the Random-Access Memory (RAM) of a computer belonging to CEO Jarnail Singh's office.
"The accused identified as Umesh Kumar may have tried to remove some data from the computer. We are not sure what he has deleted. It is certain that he wanted to make the computer defunct so that nobody could access any file stored in the computers," said a police source. Police said that the accused had managed to escape the attention of the security personnel as cameras were not installed on every floor of the OC office.  Cameras have been installed on the seventh and eighth floor of the building while such cases have been reported from almost every floor.
"Umesh struck everywhere at the OC office and removed RAMs from computers belonging to officials. He would dismantle the CPU of a computer and would put it back together after his purpose was served. Next day when someone would switch on the computer he would face problems but would assume that it was be a technical fault. But when problems started pouring in from every office of official, it became evident that there was some foul play. Umesh didn't' know that CCTV cameras have been installed at Jarnail Singh's office and was caught," said a senior police official.
The officer said that the accused, Umesh Kumar is a pantry boy and had been working at the OC office for several years. He would remove RAMs from the computer and next day problems were reported from his office. G Kuppu Swamy the director of security then checked the CCTV footage of the CEO's office in which Umesh was caught in the act.
Meanwhile, Director of Security, OC office, G Kuppu Swamy said that Umesh was clever and would put the systems back together after ransacking them. "We can't divulge more information as it is a very serious issue," stated a senior police official.