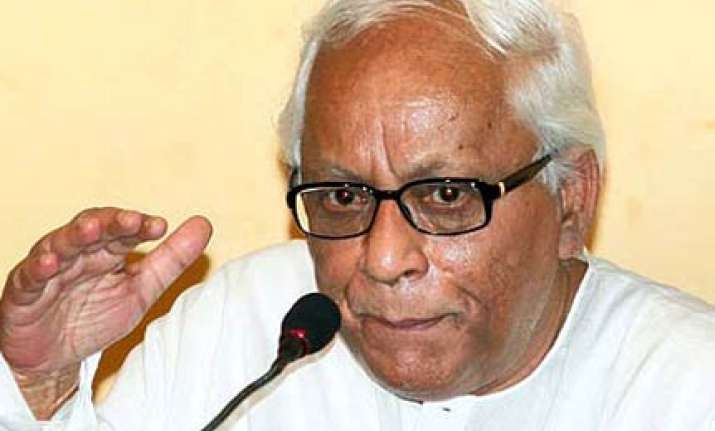 Concerned over unauthorised constructions in the heart of the metropolis in disregard of rules, West Bengal Chief Minister Buddhadeb Bhattacharjee on Thursday  cautioned the Kolkata Municipal Corporation and Municipal Affairs and Urban Development department against such constructions. 
"I understand a racket is working in connivance with a section of the administration. The fire at the Stephen Court on Park street, which claimed 24 lives, has opened our eyes and we need to intervene in such situations everywhere to prevent tragedies like these," Bhattacharjee told the state Assembly. He was replying to a point of order raised by the CLP leader, Manas Bhuniya. 
"Without stern action against those offending the laid down rules and allowing unauthorised constructions in the metropolis and around, the situation cannot be controlled," Bhattacharjee said. "I can't allow such a situation to take place and I must act on it."  
"Undoubtedly the incident was heart-rending and I held two important meetings on the issue yesterday," Bhattacharjee said replying to a question about steps taken by the state government.  
Bhattacharjee said the immediate step would be to remove bodies from the heritage building and ensure treatment of the injured. The accumulated debris have to be cleared and make sure that firemen enter the interiors unhindered.
 He said the bodies needed to be handed over to the relatives after the customary identification procedure. "Some bodies are difficult to identify, but procedures are there to make it possible."  
Bhattacharjee said the administration was in touch with the family members of those injured, who are now under treatment in different hospitals. 
"We have already announced compensation of Rs two lakh to the next of kin of each victim of the tragedy. We can't say immediately that there are no more bodies in the ill-fated building and as such we have to go in for more search operation," he said.  
"The most interesting part of the incident is how two floors were constructed illegally in the heart of the metropolis and how such a devastating fire took place," the Chief Minister wondered.  
He said time was ripe now for the state government to be active and more strict against violation of rules and illegal constructions.
Bhuniya later told reporters that after Chief Minister's statement, municipal affairs and urban development minister Asok Bhattacharya and city Mayor Bikash Ranjan Bhattacharya should resign immediately. PTI