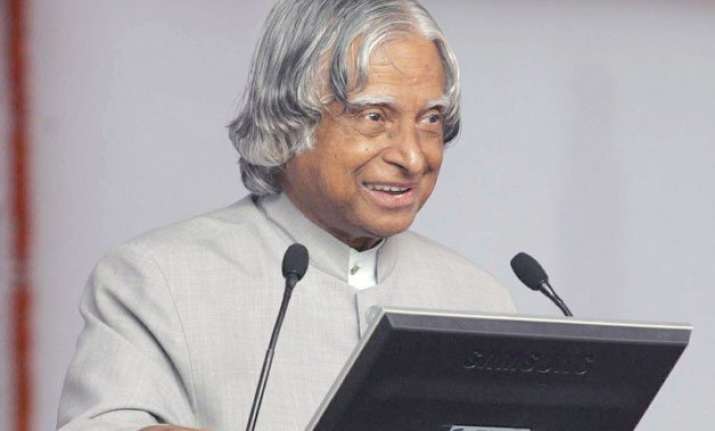 New Delhi: A. P. J. Abdul Kalam, also known as Avul Pakir Jainulabdeen, was the 11th President of India from 2002 to 2007. He was a noted scientist and a great man whom nation still fondly remembers. Kalam was born and raised in Rameswaram, Tamil Nadu where he also studied physics and aerospace engineering.
Kalam spent almost four decades as a scientist as well as the science administrator, mainly at the Defence Research and Development Organisation (DRDO) and Indian Space Research Organisation (ISRO).
He was also closely involved in India's civilian space program and military missile development efforts. From here only, he became famous as the Missile Man of India for his work on the development of ballistic missile and launch of vehicle technology.
While delivering a lecture at the Indian Institute of Management, Shillong, Kalam collapsed and died a natural death from an apparent cardiac arrest on 27 July 2015. He was 83.
The funeral ceremony of Kalam was held in his hometown of Rameshwaram with full state honours.
Kalam, however, was not only a successful scientist and an admired leader; he was also a wonderful orator and writer. He had authored over two dozen books and scores were written on him.
On the 84th birth anniversary of Bharat Ratna awardee, we have listed down the books written by him and the ones written on him:  
Books by APJ Abdul Kalam
*Forge Your Future
*Indomitable Spirit
*Turning Points
*You Are Unique
*Scientist To President
*Wings Of Fire An Autobiography
*Hum Honge Kamyab
*Tejaswi Man
*Mere Sapnon Ka Bharat
*Guiding Souls
*Songs Of Life
*Guiding Soul Dialogues On The Purpose Of Life   (Kalam, along with Arun Kumar Tiwari)
*Hamare Path Pradarshak                                       (Kalam, along with Arun Kumar Tiwari)
*A Manifesto For Change                                        ( Kalam, along with V. Ponraj)
*You Are Born To Bloossom
*Mahashakti Bharat
Books Published on APJ Abdul Kalam
*Dr. Abdul Kalam'S Futuristic India
*NavNeet Dreams To Reality
*The Kalam Effect
*Apj Abdul Kalam
*Kya Hain Kalam
*Rashtrapati A.P.J. Abdul Kalam
*Wisdom Of Kalam
*Main Kalam Bol Raha Hoon